---
---
Three Night Valdez Winter Itinerary
Unlike other areas within Alaska, Valdez has a long-standing reputation for great snow: more than 300 inches is measured annually in town and 600 to 900 inches in nearby Thompson Pass. Winter temperatures in Valdez are much warmer than those in most other areas of Alaska, and with more snowfall than any other American town, Valdez is a paradise for those who to explore the outdoors during the long winter months. 
Day One: Getting Here
Travel: Valdez is easily accessible, even through the winter. Daily flights from Anchorage to the Valdez Pioneer Field Airport is provided by Ravn Alaska and other air service providers. Driving to Valdez in the winter from Anchorage or Fairbanks offers great opportunities for viewing the scenic beauty of Thompson Pass and the frozen waterfalls of Keystone Canyon on the drive. You can check current driving condtions at 511.alaska.gov. 
Stay: Upon arriving in Valdez, accommodations in town are available at our local hotels and B&Bs. Our hotels are within easy walking distance of many of Valdez's attractions, such as our museums, winter trail-heads, and the harbor. Those wishing for more scenic accommodations can make reservations at some of Valdez's wilderness lodges located out of town. 
Dine: After a long trip, you'll discover that, despite being such a small town, Valdez has an awesome array of niche restaurants to try. The downtown and harbor areas offer restaurants serving everything from local seafood to pizza and burgers to ethnic cuisine. These restaurants will be right within walking distance of your hotel or B&B.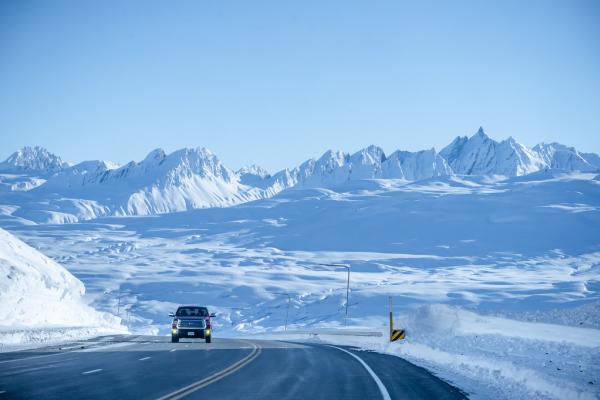 Thompson Pass. Photo by Jiyeon Juno Kim
Day Two: Explore Town
Culture: Valdez offers plenty of opportunities for visitors to discover our local culture. The Valdez Museum and Historical Archive on Egan Drive is open year-round. Normal winter hours for the Valdez Museum are from noon to 4 PM, Tuesday through Sunday. The Museum offers exhibits on Alaska Native cultures, the Gold Rush, and much more. The Valdez Visitors Center, located across the street from the Valdez Museum, displays additional exhibits on history, wildlife and art in Valdez. Don't forget to check out the Peter Toth "Whispering Giant" wood carving on the campus of Prince William Sound College. 
"In Town" Trails: While at Prince William Sound College's campus, make sure to check out their "Ski for Free" program, which offers free rentals for snowshoes, cross-country skis, and other winter gear. Valdez Parks & Recreation maintains a number of "in town" winter trails which begin within walking distance of most local accommodations. A few easier trails to check out include Dock Point, Meals Hill, and the East & West Dike Trails. These trails are great for snowshoeing or cross-country skiing, but are accessible to hikers as well. 
Grab a Brew: Valdez has two new local breweries that have opened up in recent years, offering a taste of our local craft beers. Inside, the breweries also proudly display works from local artists and photographers. If you're lucky, you may have a chance to ask the brewmasters about their craft.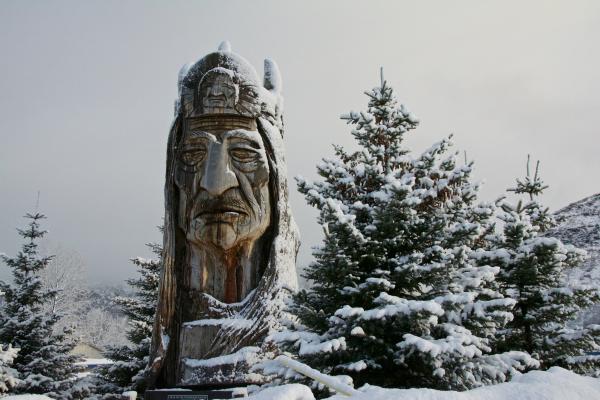 The Whispering Giant carving. Photo by Matthew Osburn. 
Day Three: Winter Adventure
Valdez Glacier: A favorite winter activity for many Valdez locals is to Visit Valdez Glacier Lake at the end of Airport Road and hike or ski or snowshoe over the lake to explore the icebergs that have broken off from the glacier during the summer and frozen in place during the winter. 
Winter Sports: Valdez is one of the world's frozen hot-spots for winter sports. Guided trips are available with local winter tour operators for heli-skiing, snowboarding, snowmachining and ice climbing. Those interested in downhill skiing can also check out the Salmonberry Ski Hill, which offers a tow-rope up the slope, or the ski runs in Thompson Pass. 
Northern Lights: The best chance of spotting the northern lights in Valdez depends on timing. The winter skies in Valdez can range from clear and windy to cloudy and snowing. Check for local weather updates online or on the radio with our local stations. Additionally, aurora-spotters will want to check the forecast for aurora activity provided by the University of Alaska Fairbanks online aurora forecasts. Outside of town, some of the best spots for aurora-spotting are at open areas like Robe Lake or Old Town, or even as far out as Thompson Pass.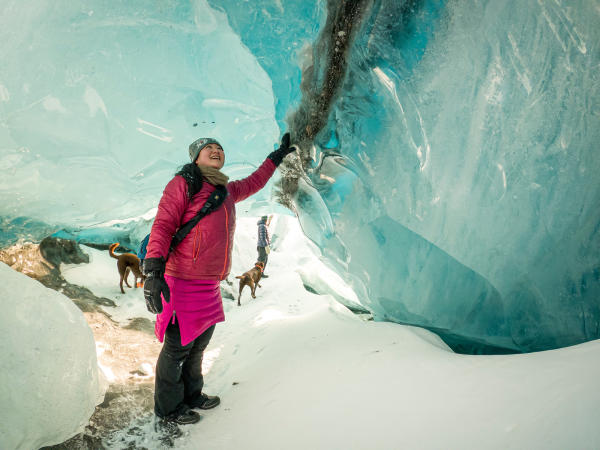 Valdez Glacier in Winter. Photo by Stephen Bugno
Day Four: Departing
Breakfast: Before traveling, enjoy a warm breakfast in Valdez. Many of our restaurants are along or near our small boat harbor, and you won't want to miss the opportunity to stroll along the harbor's boardwalk with a warm cup of coffee in your hand. 
Travel: After breakfast, fly out from the airport or drive out on the Richardson Highway. Either option will provide you with amazing views and photo opportunities as you fly over the Chugach Mountains, or drive past frozen waterfalls and through scenic mountain landscapes.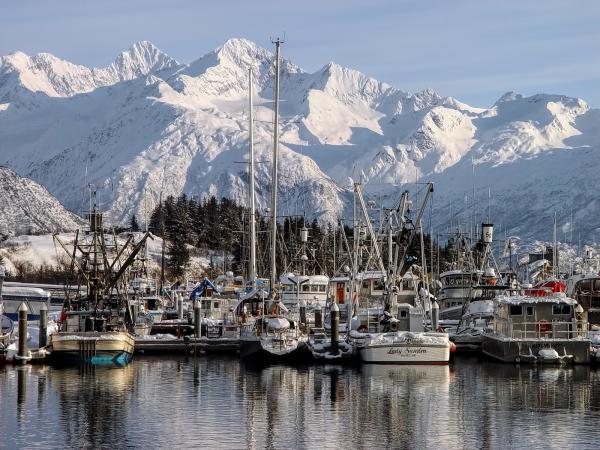 Mountainous Harbor. Photo by Gary Minish
Special Events
In addition to these itinerary suggestions, make sure to check out our calendar of upcoming events at ValdezAlaska.org/Events. If you're in town during one of our annual winter/spring festivals, make sure to squeeze it into your schedule. You won't want to miss these amazing events that happen only in Valdez. Some of our major annual festivals during the winter/spring include: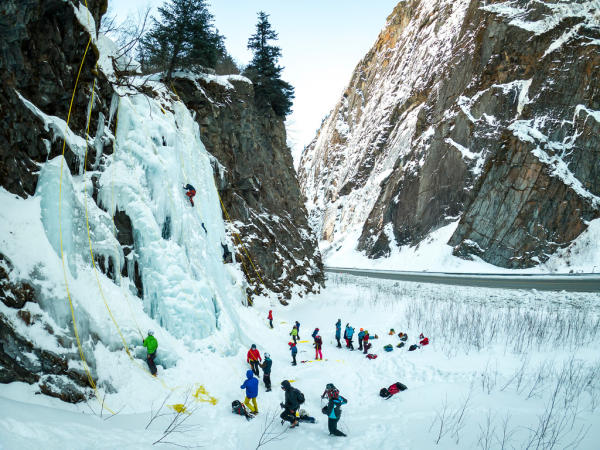 Valdez Ice Climbing Festival 2021. Photo by Stephen Bugno
Plan Your Trip
Need some more information to plan your winter trip to Valdez? Contact the Valdez Visitors Center for more info. Email us at info@valdezalaska.org or call 907-835-2984.