---
---

Race a fat bike over icebergs in Valdez!
On the first weekend of April, the Fat Bike Bash in Valdez offers some of the most unique races you will ever ride. You can join a 5, 10, or 20-mile cross-country race around and over the icebergs, on a glacial lake while surrounded by sheer cliffs and frozen waterfalls in one of the most beautiful parts of the state. 
The next day, if you dare, you can ride a snowcat to the top of East Peak Resort and race down the cat track in the Extreme Downhill race. 
The 2023 Valdez Fat Bike Bash is scheduled for March 31 - April 2, 2023.
Video from the Valdez Adventure Alliance
2023 Event
Fun social events will take place both days at base camp on Valdez Glacier Lake, including glacier tours by bike and snowmachine and friendly competitions to test your bike skills. Find out who can race their bike the slowest, bunny hop the highest and maintain the longest wheelie!
The event also includes evening socials at The Fat Mermaid and Growler Bay Brewing Company, as well as special discounts at local establishments like Prospector Outfitters.
If you have more time, you can partake in a variety of other adventures in Valdez. Bring your skis or snowboard to find out what makes this such an amazing winter destination, or enjoy miles of groomed xc ski trails. 
Need gear? You can buy snowshoes or rent skis at The Prospector. 
If a guided trip is for you, try a hiking or climbing adventure with Alaska Guide Co. For indoor fun, check out the array of works by local artists at Valdez Art Co-Op, or head to the Valdez Museum, where you can learn about the Gold Rush, the Good Friday Earthquake, and the Exxon Valdez oil spill.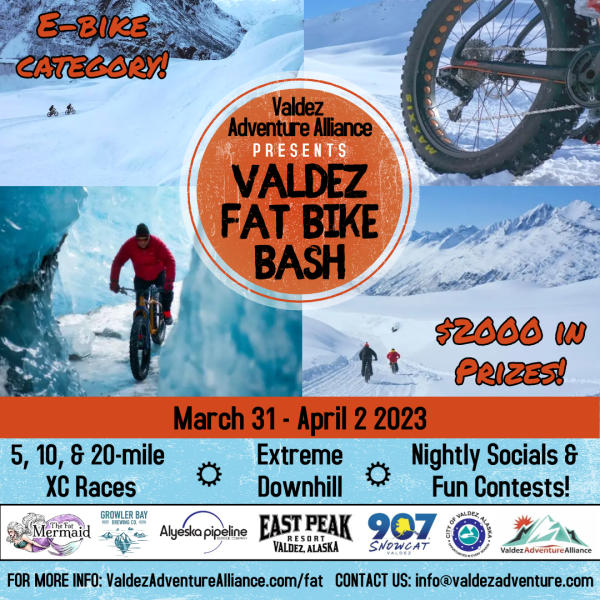 Registration & Contact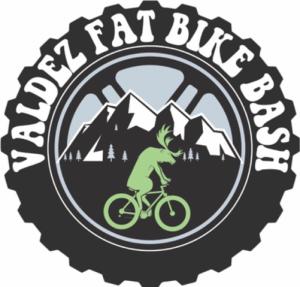 For more information on the Valdez Fat Bike Bash, visit Valdez Adventure Alliance online!
Media contact: Lanette Oliver
Email:  events@valdezadventure.com
Facebook:  Valdez Adventure Alliance
Facebook: Valdez Fat Bike Bash
Instagram: valdezadventurealliance
URL: https://valdezadventurealliance.com