---
---
"Moss green, fern green, spruce green, leaf green rainforest colors glisten and drip in this cloudy maritime climate. This unique and beautiful forest represents the most northerly extensions of temperate rain forests in North America. Dock Point is the top of a glacier scoured bedrock ridge bordered by the Valdez Duck Flats to the north and Port Valdez to the south. Far enough from the base of the mountain to evade avalanching snow and safely above the highest tide, a spruce grove has taken root on this bedrock knob," Valdez Parks & Recreation
Dock Point Trail is one of Valdez's shorter and easier hiking trails, but offers some of the best views of Harbor Cove, the Duck Flats wetlands and abundant wildlife in a temperate boreal rainforest. The trail is along a peninsula, and offers overlook platforms for safe viewing. Beach access is available near the trailhead. Dock Point is great for families as well as pets. There is a steep ascent during part of the trail, but the trail is a loop, so hikers can choose to hike the loop clockwise to avoid the steep hill.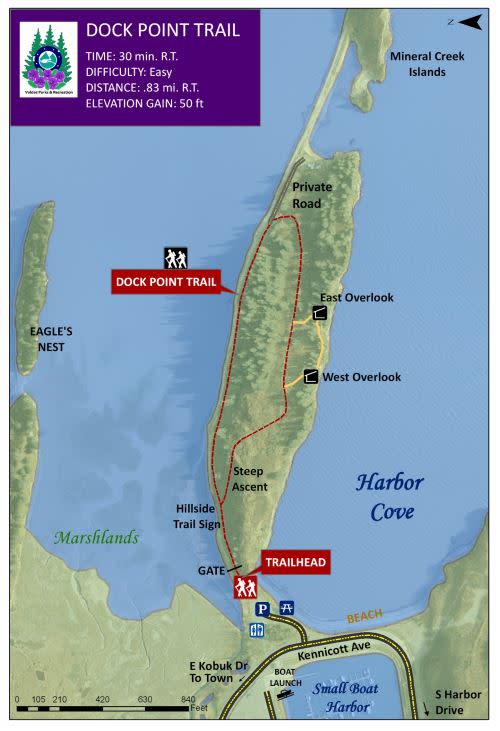 Map from Valdez Parks & Recreation. View full trail guide. 
Trail Details
Difficulty: Easy
Estimated Time: 30 minutes round trip
Distance: 0.83 miles round trip (approximately 1.34 km)
Elevation Gain: 50 feet (approximately 15.24 meters)
Amenities: BBQ grill, fire pit, pavilion/gazebo, picnic tables, restrooms, gravel parking lot
How To Get There
The trailhead for Dock Point Trail is at the end of a large parking and picnic area located off Kennicott Ave and Kobuk Drive, across the road from the Valdez Small Boat Harbor. 
Discover more full Valdez maps. 
Trail History
From Valdez Parks & Recreation: "The trail was developed in 1997 with funds from the Exxon Valdez Marine Recreation Grant program. Interpretive signs were installed in 1999 as a joint project of the City of Valdez and Alyeska Pipeline Service Company with funds from the Symms National Recreation Trail Grant program."
Trail Safety & Etiquette
While Dock Point is one of the easier trails around Valdez, there are some safety precautions to follow. Parts of the trail are inclined, so good footwear is recommended. Some areas of the peninsula are bear habitat, so it is best to remain on the marked trail. Avoiding coming into contact with the wild celery, which may cause skin irritation, and Devil's Club plant, which is prickly. 
Additionally, the end of the peninsula is private property (noted on the trail map). Pets are allowed, but dogs must be kept on a leash. "Pet Pick-Up" bags are provided near the trailhead. Trash receptacles are available in the parking lot for disposing litter.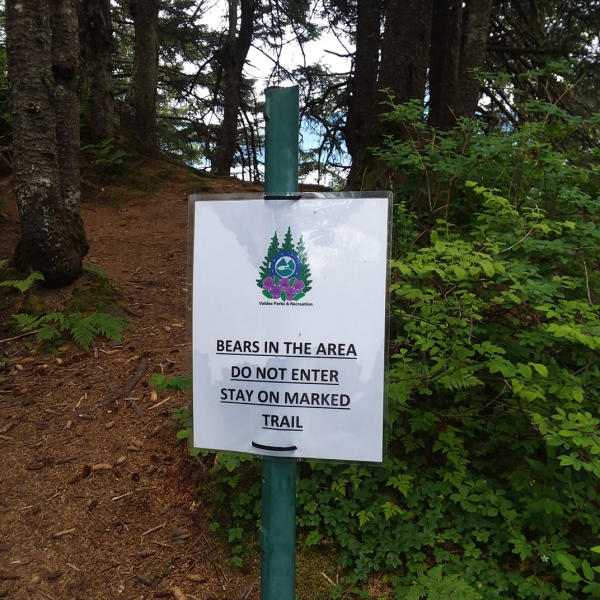 Bear Warning Sign on Dock Point Trail. Read more about bear safety. 
Wildlife Viewing
Dock Point has great wildlife viewing and photography opportunities. Wildflower meadows are visible from the boardwalks, along with spruce trees, ferns, skunk cabbage and ground dogwood. The West and East overlooks offer good overviews across Valdez Bay. An eagle's nest  is located on one of the islands can be seen from the north side of the trail. Berries and mushrooms can be seen on the trail in late summer. Many species of birds can be viewed in the adjacent Duck Flats.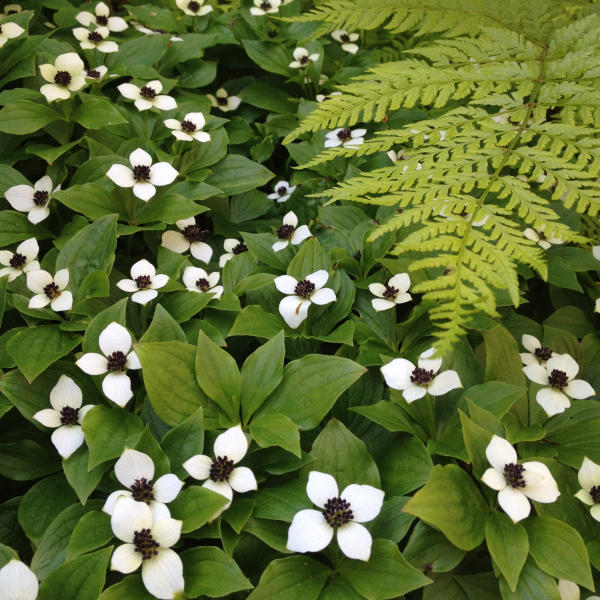 Dogwood Flowers. Photo by Selah Bauer. 
Photo Gallery