---
---
Mountain Man Snowmachine Hill Climb: This event takes place every April in Thompson Pass, just north of Valdez on the Richardson Highway, where snowmachiners attempt to cruise their machines up a 1,700-foot slope to successfully reach the top and claim a winning time. This is a spectator-oriented event with high-stakes action.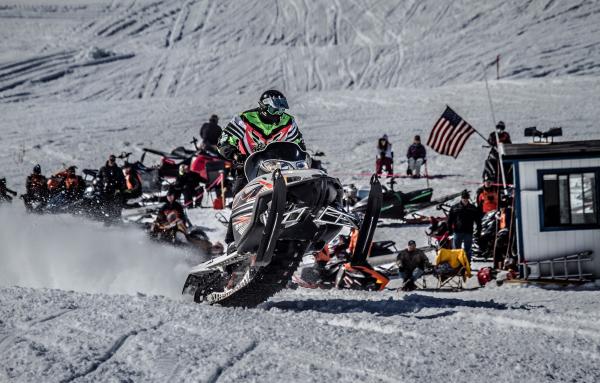 Photo from Valdez Snowmachine Club
2021 Hill Climb
The 2021 Mountain Man Hill Climb is scheduled for April 16-18, 2021. Registration is available online or from on April 15th from  5-8pm at Valdez Brewing.
Races will be held Friday, Saturday and Sunday in Thompson Pass, though the schedule is subject to change based on weather conditions.
How To Get There
All races are held in Thompson Pass at Mile 28.5 of the Richardson Highway. 
2021 Event Safety
The Valdez Snowmachine Club requires all racers to wear an avalanche beacon, chest protector, knee guards and tether. Participants and spectators to Valdez should be review Valdez COVID-19 safety information. A city mask mandate is still in effect for those who will be in town. 
The Valdez Snowmachine Club recently released this statement on avalanche safety in Thompson Pass: