---
---
Valdez Ice Climbing Festival
The Valdez Ice Climbing Festival is held in Valdez every winter. The stunning waterfalls of Keystone Canyon serve as just a few of the fabulous climbing venues for this event. World class instructors teach clinics for all ages and levels, including specialty classes for youth, women only, and physical adaptations. The event is organized by the Valdez Adventure Alliance. 
The 2021 Ice Climbing Festival is scheduled for February 12-14, 2021. 
Valdez Ice Climbing Festival from Clint Helander on Vimeo.
Event Registration & Volunteer Info
Registration and volunteer information for the Ice Fest is available online at the VAA's website.
2021 Schedule
The 2021 full schedule is available for download.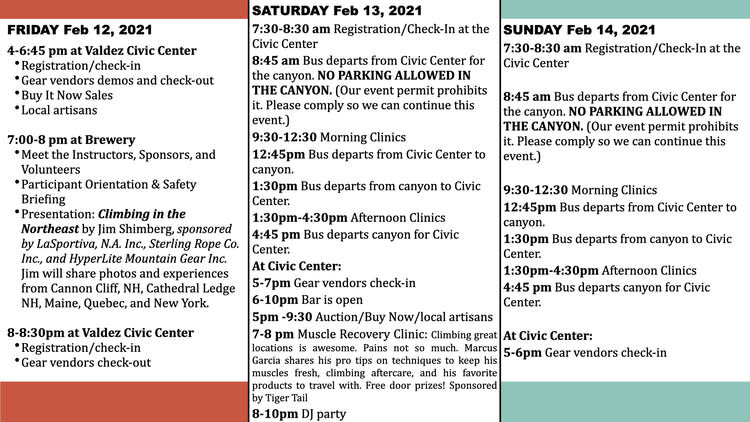 2021 Event Safety
The community of Valdez committed to COVID-19 safety. The City of Valdez currently has a mask mandate as well as a COVID Conscious Business program. 
To protect participants and the community, the Valdez Adventure Alliance released the following statement:
"Valdez Adventure Alliance values the health and safety of our staff and participants above all else. A few important changes to our normal operation include:
-The limited members instructors who are coming from out of state will be required to have a negative test before the event.
-We encourage anyone that is not feeling well or might have been exposed to COVID-19 before the event to not attend and a full refund will be available.
-Masks and the standard 6ft social distancing are required inside and wherever practical outside
As the situation evolves, so will our approach to keeping you safe."
The VAA's full COVID-19 mitigation plan is available online. 
Travel Planning
Interested in attending the 2021 Ice Fest? Feel free to contact the Valdez Visitors Center for information regarding travel plans, transportation, accommodations, COVID-19 safety, or more. Give us a call at (907) 835-2984 or email us at info@valdezalaska.org.