Valdez is a dream vacation destination, a perfect weekend getaway and a must-visit spot for any road trip plan in Alaska. From Anchorage, Fairbanks or anywhere in between, every visitor driving into Valdez will experience the journey through Alaska's renowned Thompson Pass. Located about 30 miles east of Valdez, Thompson Pass is a 2,678-foot high mountain pass through the Chugach Mountains between Glennallen and Valdez. The paved two-lane highway through the pass, completed in 1955 and stretching 82.5 miles long, winds through the mountains and boasts some of Alaska's most awe-inspiring terrain.
Winter or summer, snow or sunshine, Thompson Pass is a playground for outdoor enthusiasts and sightseers at any time of the year. As drivers cruise down the highway in the summertime, surrounded by a horizon of mountain peaks, flowing streams, gushing waterfalls and endless natural beauty, they'll feel like they're leaving the rest of the world behind.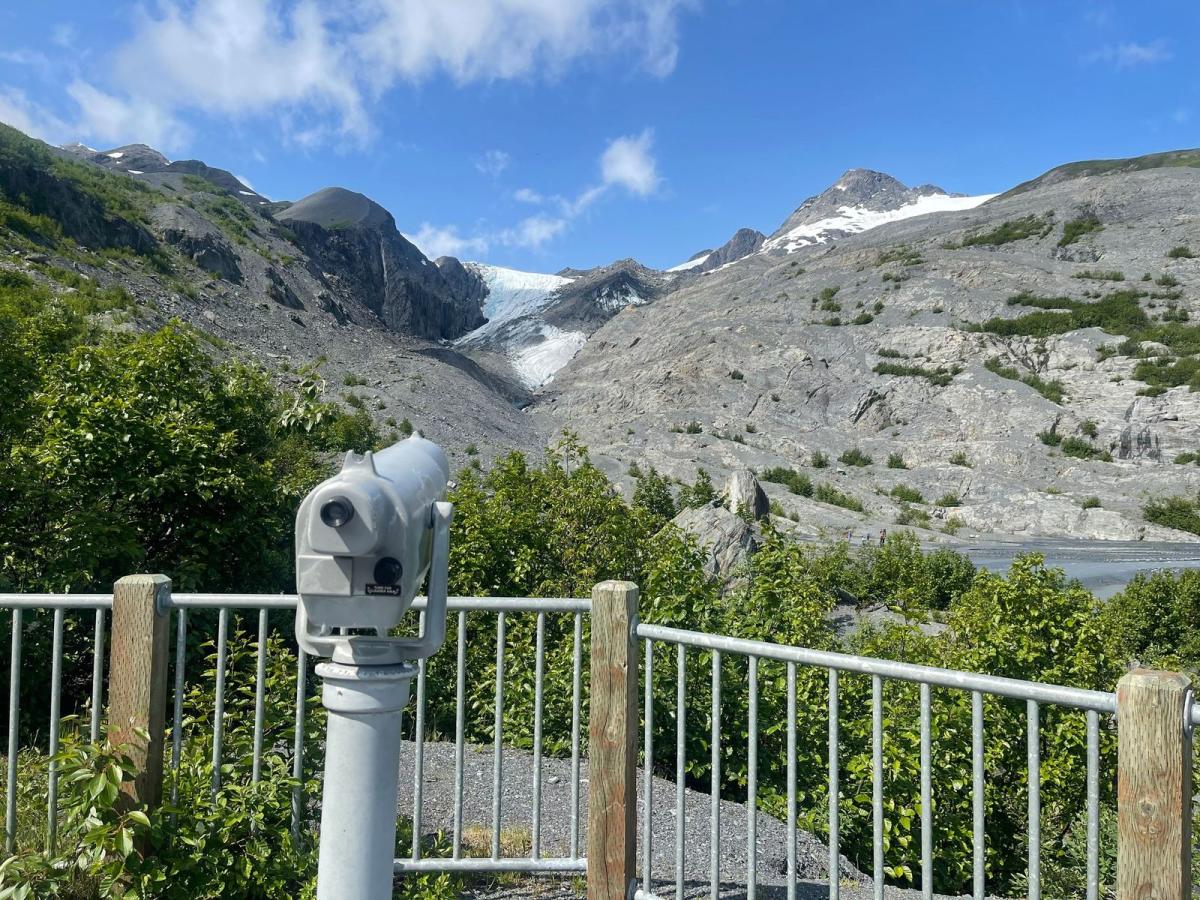 Worthington Glacier is one of the most accessible Alaska glaciers and is the perfect road trip pit-stop for every Alaska vacation to Valdez.
One of the most noteworthy sites and popular stops in Thompson Pass is Worthington Glacier. Worthington Glacier is one of Alaska's most accessible glaciers, easily seen right from the road when traveling down the Richardson Highway. At four miles long and encompassing a whopping 5,744 acres, Worthington Glacier is a valley glacier. It was named a National Natural Landmark in 1968, and stopping to experience this natural phenomenon should be part of every Valdez road trip plan.
While on the ultimate Alaska road trip, visitors can stretch their legs at the 113-acre Worthington Glacier State Recreation Site, located at mile 29 along the highway in Thompson Pass. There, visitors will find an information center, restrooms and a paved, wheelchair-accessible trail from the parking lot to a viewing platform located a short distance from the toe of the glacier. The recreation site also boasts several hiking trails that provide even better vantage points of the spectacular glacier.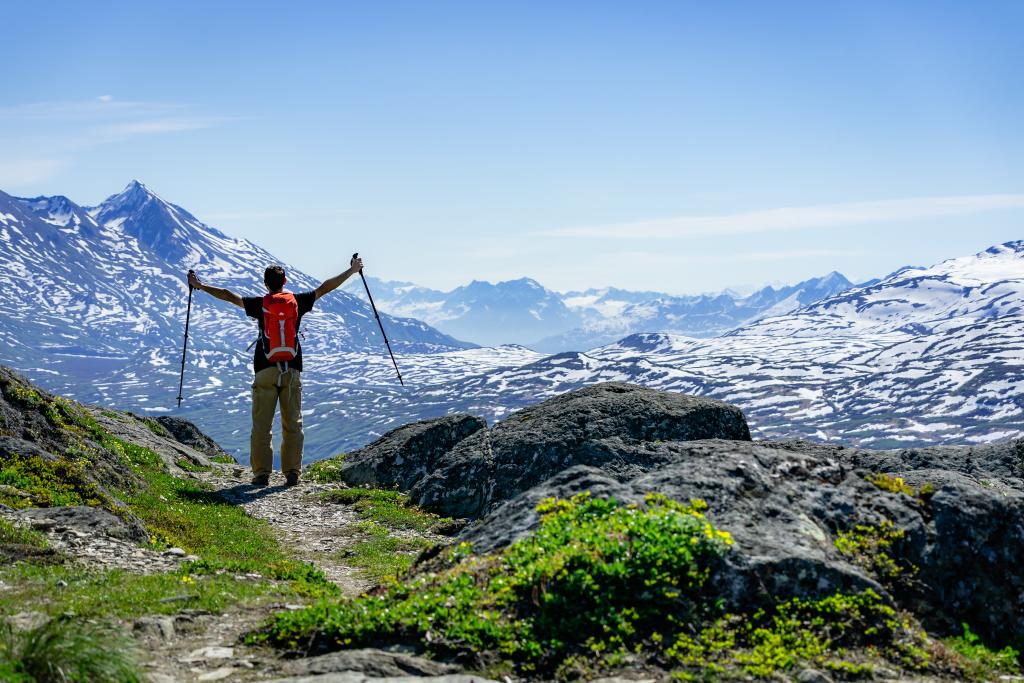 Thompson Pass is full of trails that boast beautiful views of the surrounding Chugach Mountains. Hiking the Trail of '98 should be on the to-do list of every adventurous traveler. Photo by Jiyeon Juno Kim.
Under Alaska's midnight sun in the summer, Thompson Pass offers endless opportunities for outdoor adventure with breathtaking views and spots for hiking, biking, camping and rock climbing. For hiking enthusiasts the historic Trail of '98 is a must. The trail follows the route that took prospectors from Valdez to Interior Alaska during the 1898 Gold Rush. Today the trail is broken into four sections: Keystone Canyon Pack Trail, Thompson Pass Pack Trail, Goat Trail and Wagon Road. Each section varies in length and difficulty, but all show off the beautiful scenery Thompson Pass is known for. For those who enjoy multi-day hikes, traversing multiple sections of the Trail of '98 can make for the perfect weekend getaway.
For those who prefer a weekend getaway that requires fishing gear, Thompson Pass is a great area to unwind, pitch a tent and cast a line. Blueberry Lake is an excellent spot for hooking up with rainbow trout and grayling. Blueberry Lake State Recreation Site is also home to Blueberry Lake Campgrounds, which offers spectacular 360-degree mountain views and makes an ideal home base for exploring Thompson Pass. Twenty campsites are available on a paved loop road near the picturesque lake, and each campsite is equipped with fire pits and picnic tables. Near Blueberry Lake is Thompson Lake, another great spot for rainbow trout fishing. The lakes around Thompson Pass also make for great swimming holes!
"The name explains it all: Hidden Lakes. It is the local swimming hole. Right smack at the top of Thompson Pass is a small pull off that, after an easy 20-minute hike, takes you to two small lakes," said Dr. Benjamin Rush, board member of Valdez Adventure Alliance. "Once the snow is gone and the water warms up, it's like having your own Olympic-size pool in the mountains. Life doesn't get much better."
Named appropriately, Blueberry Lake State Recreation Site also offers excellent opportunities for blueberry picking. Lowbush blueberries can be found inches off the ground in Thompson Pass. They become ripe in August and have become the most harvested berry in the Valdez area. It's important to be mindful and aware while berry picking. Humans aren't the only ones who enjoy fresh blueberries, so foragers should always keep a mindful eye for bears in the area.
Winter or summer, Thompson Pass is an outdoor adventurer's dream and offers endless sights and activities for an Alaska vacation or weekend getaway. Photo by Jody Overstreet
Not thinking about taking a road trip until this winter? During colder months Thompson Pass transforms into the snowiest place in Alaska, recording an average of 500 inches of snow per year. Even with all the snow, the highway through Thompson Pass is meticulously maintained, safe for winter travel and is only closed due to weather a couple of days a year on average. It's the perfect destination for winter sports enthusiasts who can get their adrenaline going with winter activities like fat tire biking, snowshoeing, snow machining, ice climbing, cross country skiing and heli-skiing.
"When I think of Thompson Pass, I think of Moonlight Basin. It's backcountry skiing at its finest," said Rush. "It's only a 30-minute drive from town and you park and start skiing up from your car. It's amazing. The views of the valley are breathtaking. It's a great way to start your day."
In the winter, Thompson Pass transforms into a winter wonderland. Hiking, snowboarding and snowmachining through the pass make this a perfect weekend getaway destination for outdoor sports enthusiasts. Photo by Jiyeon Juno Kim.
Thompson Pass is home to many organized winter and spring events including the Mountain Man Hill Climb, Fat Bike Bash, Alaska Kite Festival and Tailgate Alaska.
For winter travelers who prefer to take in the sights from the warmth of their vehicle, Thompson Pass offers a scenic drive filled with snow-capped mountains, frozen waterfalls and a possible glimpse of the northern lights come nightfall.
Easily accessible from Anchorage or Fairbanks, the natural beauty of Thompson Pass makes a road trip to Valdez a dream vacation for all travelers and the perfect weekend getaway for Alaskans.