---
---
Because of the increased use of the 1899 Pack Trail, it was upgraded in order to accommodate sleds, wagons, and eventually automobiles.  By 1905, the Valdez Transportation Company was offering a nine day stagecoach trip to Fairbanks for $150. In 1913, the first automobile traveled from Valdez to Fairbanks over the improved trail, even though the Goat Trail section was difficult to maintain due to snow and rock slides.
The Snowslide Gulch area posed a particular problem as massive snowslides would periodically destroy or severely damage its bridge. Bear Creek Bridge, the last of the four main trail bridges, was built in 1943.  This 300 foot steel arch bridge is a good example of World War II construction.  The Goat Trail/Wagon Road was in use as late as 1952 when a major flood destroyed the 317 foot long Lowe River Bridge, located just upstream from the mouth of Keystone Canyon.  What remains of the concrete piers can still be seen in the river.  Once a through trail, the Goat Trail and Wagon Road are now considered two separate trails because of the destruction of the bridge at Snowslide Gulch during the floods of 2006.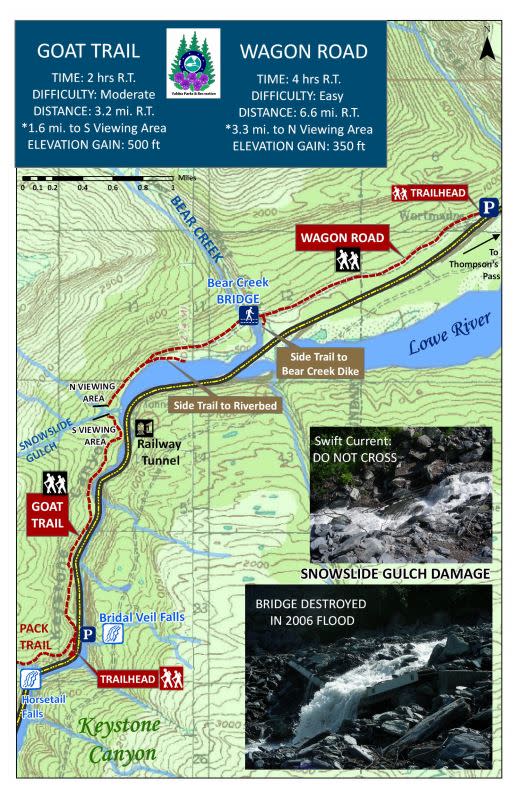 Map from Valdez Parks & Recreation. Download full trail guide. 
Trail Safety 
The prickly Devil's Club plant is present on the trail, as is Wild Celery, which may cause skin irritation. 
Goat Trail History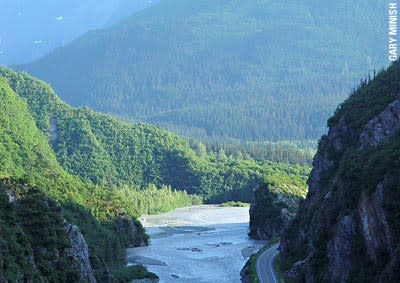 W.R. Abercrombie, a Lieutenant in the US Army, was sent to Valdez with orders to find or build a road connecting Valdez to the interior of Alaska.
After many searches, in 1898 he found an old native trail that began in Keystone Canyon. By 1909 the trail was widened and ran from Valdez to Eagle and was called the Military or Valdez Trail.
In July 1919, the road through the Canyon was destroyed by excessive flooding, and by 1921 it was rebuilt. Its name was then changed to the Goat Trail. It was used for many years by travelers and military personnel traveling to and from the interior of Alaska.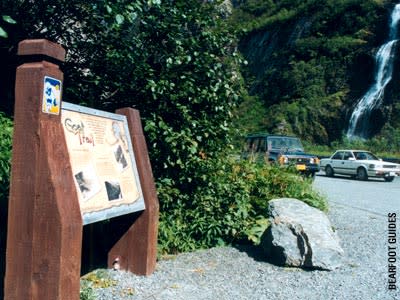 This historic trail was to Alaska what the Oregon Trail was to the Continental United States (or "lower 48").
After the Richardson Highway was completed in 1945, the Goat Trail became obsolete and was abandoned. The Richardson Highway was built along a more stable route and followed the bottom of Keystone Canyon. The Goat or Military Trail, which wound in and out of the mountains, had washed out several times.
The Goat Trail today can be used for hiking and leisure activities. The trail beings at the wood sign just past Horsetail Falls in Keystone Canyon (Mile 13.5 Richardson Highway). The trail twists and winds following the Lowe River and is passable for the first 2.5 miles. Should you choose to hike this trail, you will enjoy great views of the scenery and the new highway while reliving some of the great history of the Valdez area.