---
---
Make the Drive Down to Valdez!
Proclaimed one of "America's Most Scenic Roads" by Travel + Leisure, road tripping to Valdez from either Anchorage or Fairbanks along the Richardson Highway is worth the extra effort. A drive down the Richardson Highway offers visitors views of glaciers, waterfalls, towering mountains and expansive scenery. Along the way, the community of Glennallen provides gas, food and lodging needs before continuing on to the Richardson Highway. The drive from Glennallen to Valdez covers 120 miles and takes about two-hours. 
The Copper River Valley
After you fuel up in Glennallen, the Richardson Highway south through the Copper River Valley offers excellent views of the Wrangell Mountain Range right from the road. Stop along the way in Copper Center to check out the visitors center for Wrangell St. Elias National Park, or take a detour further south onto the Edgerton Highway to see more of the park. Wrangell St. Elias National Park is home to nine of the 16 tallest peaks in the United States as well as the historic ruins of the Kennecott Mines.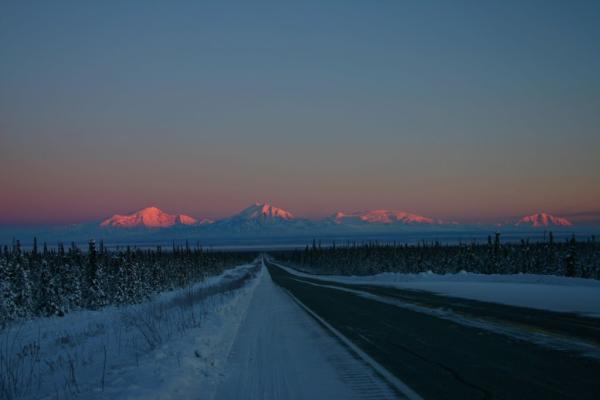 The Wrangell Mountains. Photo by Neil Hannon
Thompson Pass and Worthington Glacier
As the highway takes you closer to Valdez, you'll find yourself high in the Chugach Mountains traveling through Thompson Pass at an elevation of 2,805 feet. Around Milepost 29 watch for the sign for Worthington Glacier, one of Alaska's most accessible glaciers, while winding through the breathtaking Thompson Pass. As one of the most visited sites in the region, Worthington Glacier State Recreation Site offers visitors parking and paved walking paths, which lead to glacier viewpoints as well as interpretive signage along the way.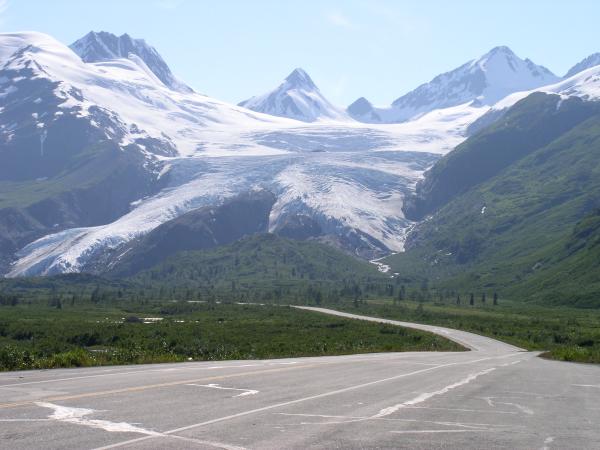 Worthington Glacier. 
Keystone Canyon
A little further down the road after exiting the Pass, visitors will want to pull over and take in the majesty of the awe-inspiring Keystone Canyon, a place of breathtaking waterfalls, magnificent geology and fascinating history. Horsetail Falls and Bridal Veil Falls cascade over towering canyon walls, greeting travelers as they pass through. Keystone Canyon is located between mileposts 14-17 on the Richardson Highway. There are various ways to get up close to these spectacular waterfalls: Drive through the Keystone Canyon and park at one of the various pull-outs. If you have some extra time, you can park and then hike the Goat Trail, a three-mile round trip hiking trail with great views of the canyon's waterfalls.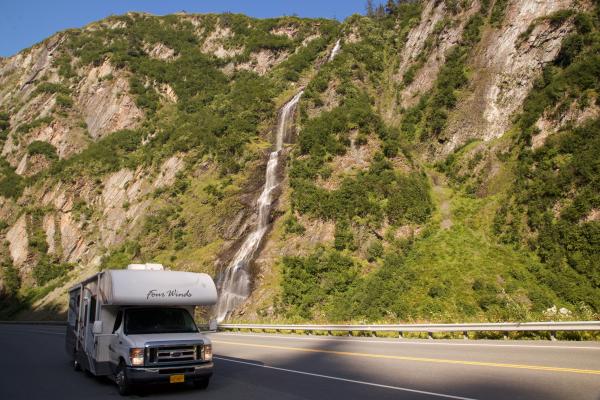 Bridal Veil Falls in Keystone Canyon. Photo from Seed Media.