---
---
Bridal Veil Falls is one of Valdez's most iconic waterfalls. Located in Keystone Canyon, Bridal Veil Falls cascade down hundreds of feet through the canyon and into the Lowe River. In the wintertime, the falls freeze into a towering column of ice.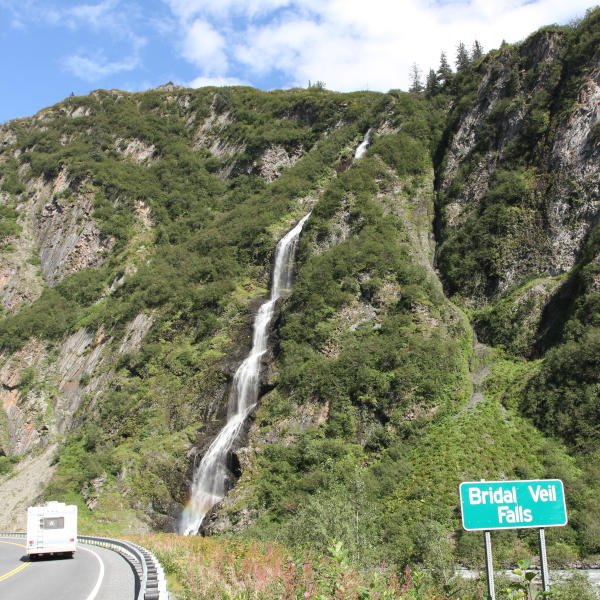 Photo by Selah Bauer
How To Get There
Bridal Veil Falls is easily viewable; just follow the Richardson Highway. The falls are approximately 18 miles from town, and can't be missed if you're taking the highway through Keystone Canyon. A parking area is provided alongside the highway to view the falls. Bridal Veil Falls is on the opposite side of the Lowe River from the highway and, although easily viewable, cannot be direct reached by visitors. 
If you're looking to make an adventure of reaching Bridal Veil Falls, consider parking at the trailhead for the Keystone Canyon Pack Trail on the Old Richardson Highway Loop and hiking 2.6 miles on the trail. The Pack Trail ends about 200 yards the Bridal Veil Falls parking lot. 
View more Valdez Maps
Winter
Bridal Veil Falls is frozen in the winter, creating opportunities for ice climbers to scale the falls. An annual ice climbing festival is held in Valdez each winter.  The Bridal Veil route is highly visible from the Richardson Highway. Five pillars separate low angle steps and the climb usually contains thick ice and offers good belay edges. Bridal Veil is a Grade V climb and 600 feet long.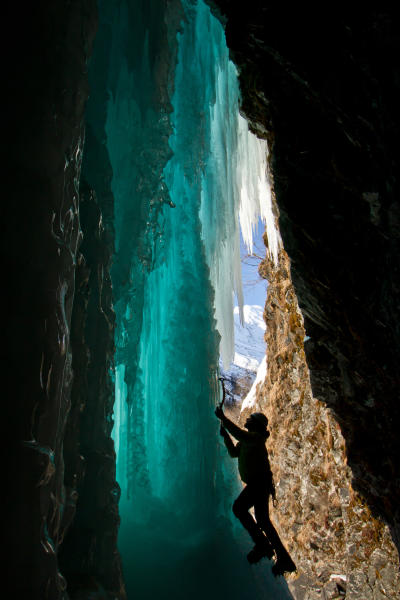 Ice Climbing Bridal Veil Falls. Photo by Zach Clanton