John Hunter Memorial Trail
(Formerly Solomon Gulch Trail) The trail climbs through a beautiful coastal spruce forest where it intersects with the Trans Pipeline Service (TAPS) road and continues to Solomon Gulch. During 1915 an aerial tramway, 5.25 miles long, was put into operation and ran from the beach, up Solomon Gulch, to the Midas Mine (Jumbo claim). More than 1,000,000 pounds of copper were produced before closing down in 1919. The tram was run by current that was furnished by the then local electric plant on Solomon Gulch. The present dam and power station were finished in 1982 and supply power to the Valdez and Glennallen areas during the summer months.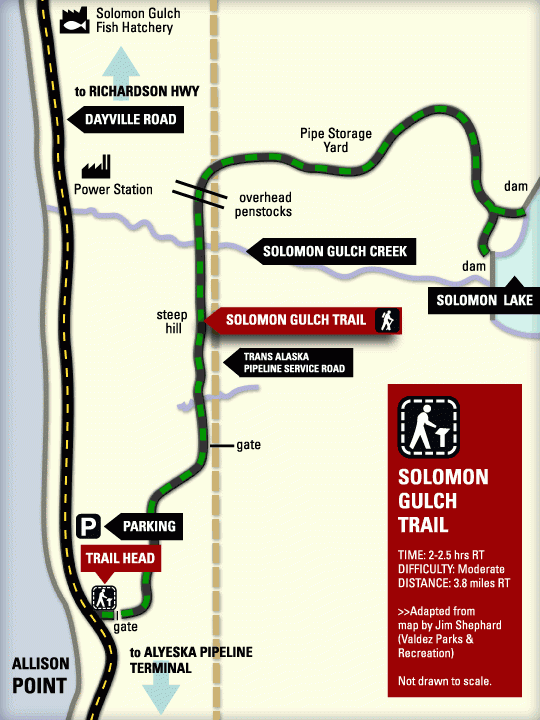 Trail Details
Difficulty: Moderate
Time: 2 to 2.5 hours, round trip
Distance: 3.8 miles, round trip
Elevation Gain: 700 feet
How To Get There
The trail begins from the west end of the first parking area at Allison Point at Dayville Road (Alyeska Terminal Road). The trail starts up a steep hill where it then joins the TAPS access corridor. There is a sign-in sheet at the gate which is passed on the left.
The track continues up another steep hill before dropping down into Solomon Gulch. The 2 penstocks passing overhead carry water to the power station and are made from surplus Alyeska pipe. The pipeline access road continues straight ahead but the trail veers to the right, up Solomon Gulch.
After passing through a pipe storage yard and another bridge, the dam is reached. By looking up the lake, the access road to the mines can be faintly seen on the left side. Very good informational signs are along the way.