Exploring glaciers is one of the most fun things to do in Valdez, Alaska, at any time of year.
Travelers looking to experience the grandeur of breathtaking Alaska glaciers on their next trip to the 49th State should look no further than Valdez. Set between the towering Chugach Mountains and the stunning Prince William Sound, Valdez is surrounded by both tidewater and land-based glaciers for travelers to admire from up close and afar. Each one unique, the glaciers have carved the area's landscape and its history. There are a variety of ways to enjoy the glaciers surrounding Valdez at every budget and adventure level.
There are several ways to discover Alaska glaciers at any time of year, and the glaciers around Valdez are no exception! In the snowy months, glacier viewing is a fun winter activity as glacial icy blues stand out among a blanket of white snow. Plus, frozen lakes and snow often allow travelers to get a closer look at some glaciers, like Valdez Glacier, than they would in the summer. As snow melts and winter transitions to summer, embarking on glacier cruises and sea kayaking excursions are the best ways to view tidewater glaciers that aren't accessible by foot.
Worthington Glacier is a popular site in Thompson Pass and is an easily accessible Alaska glacier. Photo by Jody Overstreet.
Driving through Thompson Pass on the way to Valdez, travelers will pass Worthington Glacier. Worthington Glacier is one of the most accessible Alaska glaciers and is a popular spot to explore in any season. As a valley glacier, Worthington Glacier is four miles long and covers a massive 5,744 acres. It was named a National Natural Landmark in 1968. Stopping to view this natural wonder should be part of every Valdez road trip itinerary.
At the Worthington Glacier State Recreation Site located at mile 29 along the Richardson Highway in Thompson Pass, travelers can stretch their legs and view Worthington Glacier up close. At the recreation site, travelers will find an information center and a paved, wheelchair-accessible trail to a viewing platform close to the toe of the glacier. There are also several hiking trails that provide even better vantage points.
In town and located at the end of Airport Road, Valdez Glacier is another easily accessible glacier. The runoff from the glacier feeds Valdez Glacier Lake, which turns into a frozen wonderland in the winter. As long as conditions allow, visitors can fat tire bike, snowmachine (aka snowmobile), snowshoe or cross-country ski on the lake around glacial ice and close to Valdez Glacier.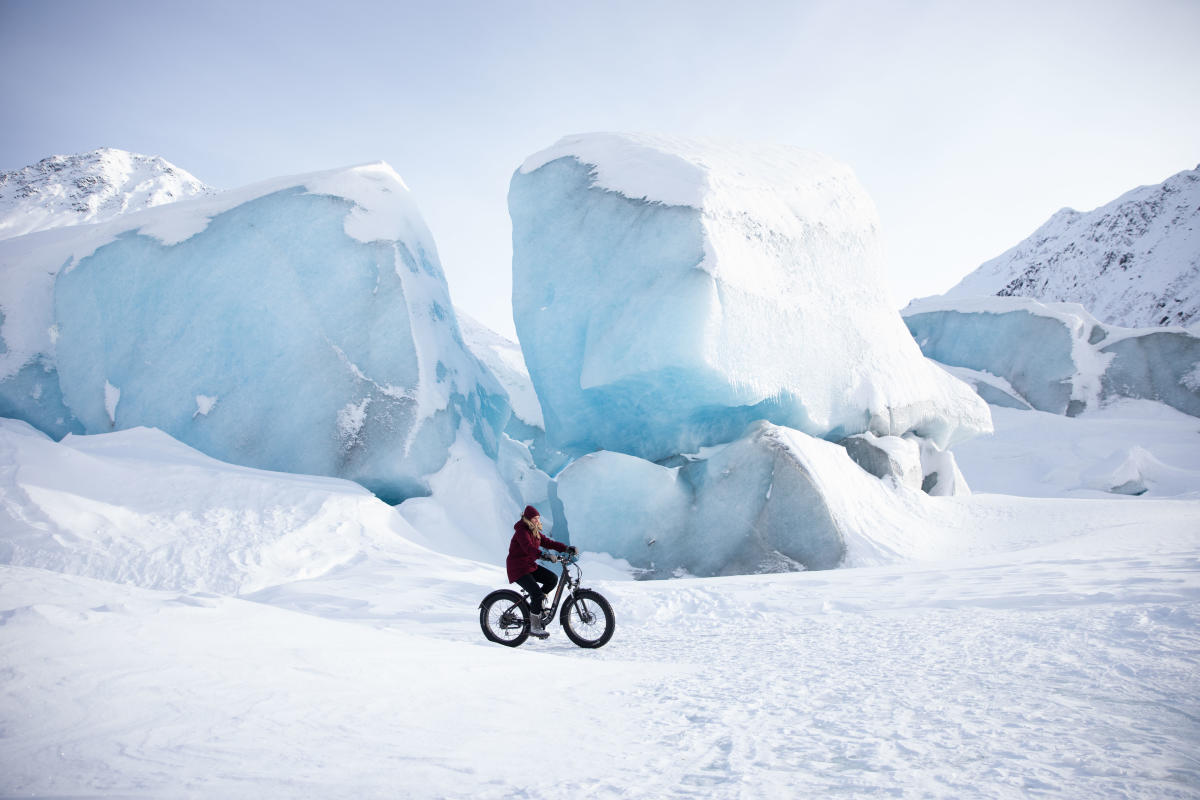 Fat tire biking on Valdez Glacier Lake around glacial ice is one of the best winter activities in Valdez.
In the summer, Valdez Glacier Lake is a beautiful area to kayak on for an up-close perspective of Valdez Glacier. There are several local businesses in town that offer kayak, fat tire bike, snowshoe and cross-country ski equipment rentals, as well as local snowmachine tour operators. Valdez Glacier Campground is also located along Airport Road and is a great home base for summer explorations.
Not only is it a beautiful Alaska glacier to explore, but Valdez Glacier also drastically shaped our community's history. Gold seekers once traveled over the glacier into the interior of Alaska during the gold rush of 1898. The route came to be known as the "All American Route."
There are many types of glaciers including tidewater glaciers. Meares Glacier is a tidewater glacier in Valdez that can be viewed on a glacier cruise or sea kayaking excursion. Photo by Amanda Baur/Stan Stephens Glacier and Wildlife Cruises.  
As the snowiest town in Alaska transforms into the "Land of Waterfalls" in the summer, the icy blues and whites of Valdez's glaciers stand out among the lush greens and sparkling blues of the surrounding mountains and Prince William Sound.
Come summertime, visitors can take an Alaska glacier cruise or sea kayaking expedition for an up-close encounter with some of the largest and most spectacular tidewater glaciers in Prince William Sound. Flightseeing tours are also available for a bird's-eye view and an unforgettable trip: helicopters can even land you on top of a glacier!
Shoup Glacier, tucked away in Shoup Bay, is only accessible by boat, kayak or helicopter. Shoup Bay can be reached by foot along an 8.5-mile trail where hikers will find beautiful views and a kittiwake rookery. After a long trek, hikers can relax in cabins located in Shoup Bay State Marine Park. A water taxi service and local kayaking outfitters are also available to bring visitors to the cabins and the glacier, as both are only accessible by boat or kayak.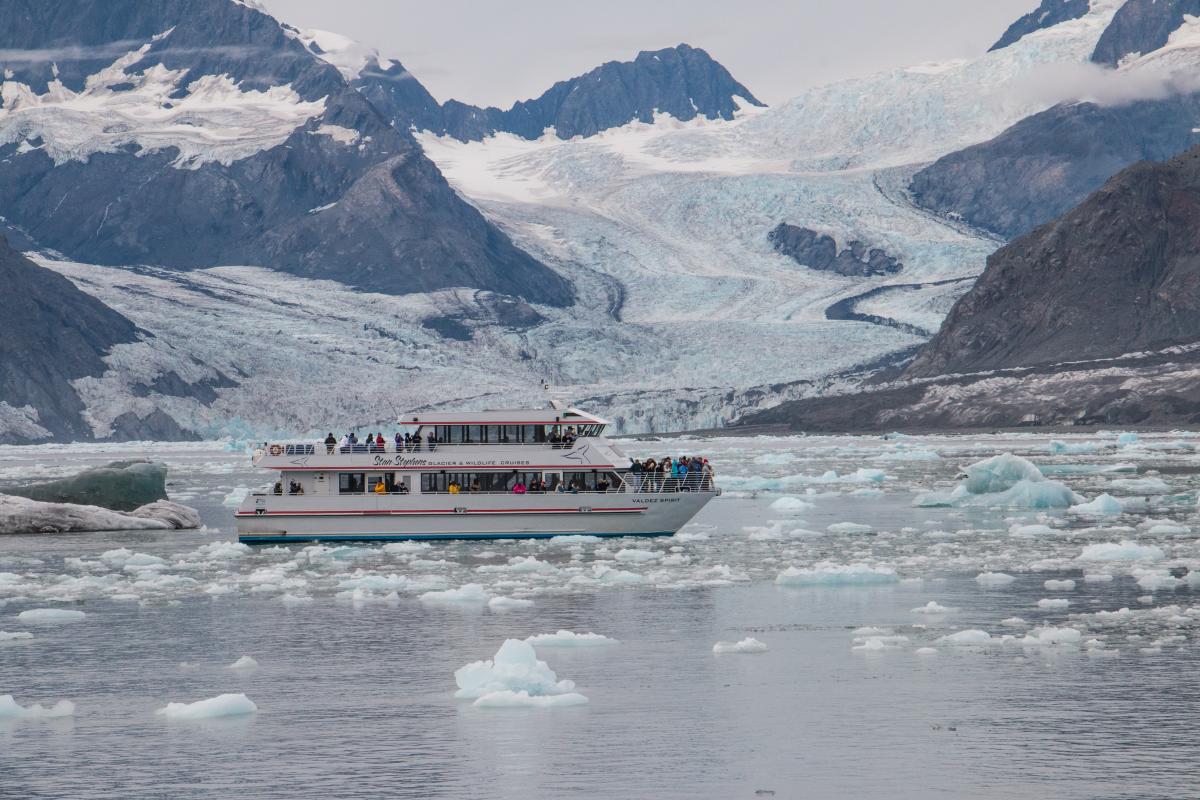 Embarking on an Alaska glacier cruise is a great way to admire and learn more about tidewater glaciers. Photo by Chris Thoma/Stan Stephens Glacier & Wildlife Cruises.
Columbia Glacier and Meares Glacier are arguably two of the most visited and most famous glaciers in Valdez. At 32 miles long and covering an area of 400 square miles, Columbia Glacier is the second largest tidewater glacier in North America. Though smaller than Columbia Glacier, Meares Glacier is still an impressive 15 miles long and is one of the few advancing tidewater glaciers in North America. There are several local glacier and wildlife cruise operators and sea kayaking outfitters that can take visitors up-close to these two glaciers.
Travelers from across the world visit our small, coastal town year-round to admire glaciers as a magnificent natural phenomena. For planning the perfect visit to Valdez, be sure to download a copy of our free online vacation guide and always check local conditions before exploring the many Alaska glaciers in Valdez.