---
---
Valdez Glacier & Valdez Glacier Lake
Valdez Glacier provides breathtaking sights and a glimpse into the local history and culture of the area. Known as the All- American Route, gold seekers traveled over the glacier into the interior of Alaska during the Gold Rush of 1898.
Valdez Glacier is a 20 mile valley glacier located in the Chugach Mountains and terminates in Valdez. The runoff of this gorgeous glacier is so vast it creates a lake in front of the terminus. During summertime Valdez Glacier Lake becomes a beautiful area to kayak on. Please be sure to wear your lifejacket, as this glacier-fed lake is approximately 640 feet deep. There are various outfitters in Valdez who will guide visitors on kayak tours.
In the winter, Valdez Glacier Lake becomes a frozen wonderland, where massive icebergs form into amazing natural sculptures. Ice skating, snowshoeing, skiing, or snowmobiling are also possible on this lake during certain times of the winter. Please be sure to check and make sure this lake is completely frozen before going on it. Safety first and have fun exploring.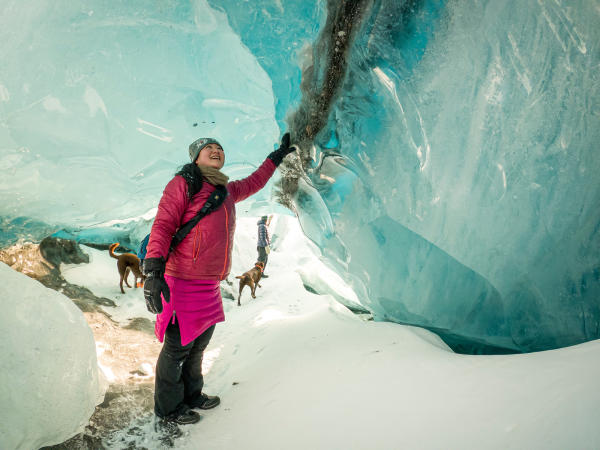 Valdez Glacier in winter. Photo by Stephen Bugno
How To Get There
Take Airport Road out to Valdez Glacier Lake. Kayak tours of Valdez Glacier and Valdez Glacier Lake are available with our local kayak guides. 
View more Valdez maps. 
Safety & Etiquette
City of Valdez: "Aaron Baczuk, city emergency manager, shares details about dangers caused by the July 2020 Valdez Glacier heavy calving and separation event. Valdez Glacier experienced an extreme calving and separation event over the past 24 hours. A significant amount of unstable ice now exists in the lake. Rolling icebergs and underwater calving pose serious danger. For your safety, keep away from all floating ice and the face of the glacier. Observe and follow posted danger signs."
Video from City of Valdez
June 2021 Safety Update
The City of Valdez released this public safety announcement on June 9, 2021:
"Please anticipate rising water levels in Valdez Glacier Lake and Valdez Glacier Stream during the next few weeks due to the biannual release from the ice-dammed lake above Valdez Glacier.
The ice-dammed lake, formed by run-off water pooling behind glacial formations, is located in the mountains above Valdez Glacier. When enough water pools behind the ice dam, the pressure causes the ice to rise, allowing the lake to drain down the mountain into the Valdez Glacier Lake and Valdez Glacier Stream. This is called an "outburst event" and may cause flooding and significant movement of ice in the lake and stream.
The ice-dammed lake has biannual outburst events of varying magnitude. One event typically occurs in mid-June as a result of summer snowmelt. The other typically occurs in September or October as a result of glacial meltwater and heavy rain.
Dr. Gabriel Wolken of the Alaska Division of Geological & Geophysical Surveys notified City officials the ice-dammed lake may soon cross the threshold to rapid drainage, signaling the start of the annual summer outburst event.
The City of Valdez encourages residents and visitors to use extra precautions while recreating in or around Valdez Glacier Lake and Valdez Glacier Stream. Should an outburst event occur, remember to move immediately to higher ground and avoid walking or driving through flood waters. To learn more about the ice-dammed lake, visit https://bit.ly/3pB7JGa."
History
Gold-seekers crossed Valdez Glacier during the Gold Rush of 1898.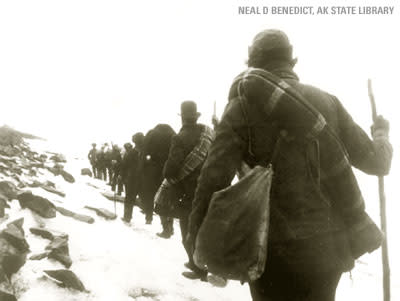 Photo Gallery