---
---
Gold Rush of 1898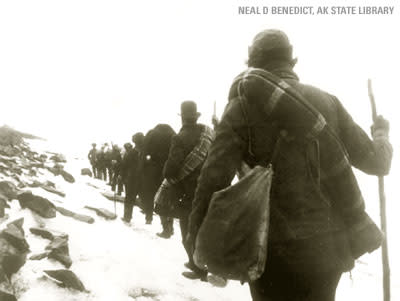 "Gold in Alaska!" "Valdez Glacier — Best Trail!" So rang the headlines in 1897-1898.
Steamship companies promoted the Valdez Glacier Trail, praising it as the only All-American trail to Alaska's interior. The Copper River, they said, was on American soil. Prospectors were bound to find even more gold there than in the Klondike.
It was one of the greatest hoaxes in Alaska's history. The prospectors arrived to find a glacier trail twice as long and steep as reported. With frontier grit, they set about hand sledding more than a 1000 pounds of supplies over the glacier, building boats, rafting the Klutina River's Hell's Gate rapids, and prospecting unnamed creeks.
By August most of the 4,000 or more goldrushers knew — they had been conned. But was it worth it? No, for those who died. Yes, for the many who found the greatest adventure of their lives. They returned home to tell others about Valdez's mountainous beauty and awe-inspiring glaciers. They told stories of their thrilling experiences rafting wild rivers, encountering bears, catching fish and hiking wilderness trails. And yes, for those who succumbed to the lure and challenge of building the first ice-free trail between coastal and interior Alaska.
Today, this is the route of the Richardson Highway and the Trans-Alaska Pipeline from Prudhoe Bay to Valdez. And yes, again, for those who were so intrigued by this majestic wonderland they stayed to build the town of Valdez and Alaska.
—Nancy Lethcoe