---
---
Biking in Valdez
With beautiful ocean and mountain views, and miles of maintained trails, Valdez is one of the best biking locations in Alaska. Local bike rentals and repair shops are available. Valdez is also host to the annual Fat Bike Bash held every spring.
The Bike Path
The Valdez DOT Bike Path begins on Hanagita Street near the hospital and continues past the Crooked Creek Salmon Spawning area.  The bike path is paved and runs adjacent to the Valdez Duck Flats, meaning there are plenty of opportunities to observe wildlife and wildflowers while on your bike ride.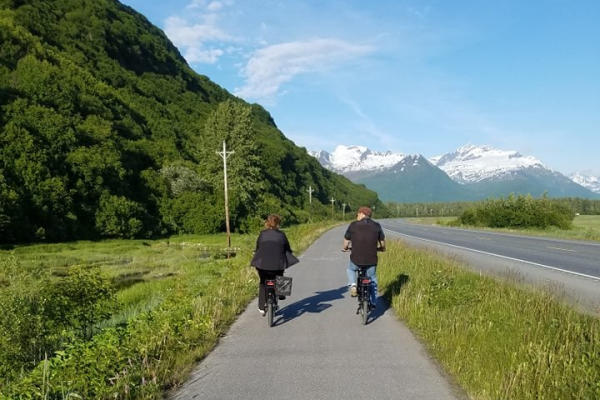 Photo from Valdez Electric Bike Rentals
Fat Biking in Valdez
Fat biking in Valdez is unlike anywhere else in Alaska. Accessible and family-friendly, multi-use, winter groomed trails can be found right in town. Valdez Adventure Alliance pays for regular grooming of Shoup Bay Trail, which is level and short, perfect for a quick or easy ride. Or, bike along Mineral Creek, where biking "up" leads to a waterfall-studded canyon or downstream ends at Prince William Sound, where, if the tide is out, you can also enjoy a beach ride. Just past Valdez Airport, the fat fun kicks up a notch and the type of scenery that makes Valdez so memorable is just a short ride across frozen Valdez Glacier Lake, where its glacial alleyways, ice caves, icebergs and other selfie-worthy scenes await discovery. Adventurous riders know that packed snow conditions open up endless riding along snow machine tracks to popular cross country and downhill descents on Thompson Pass that are limited only by a rider's energy and imagination.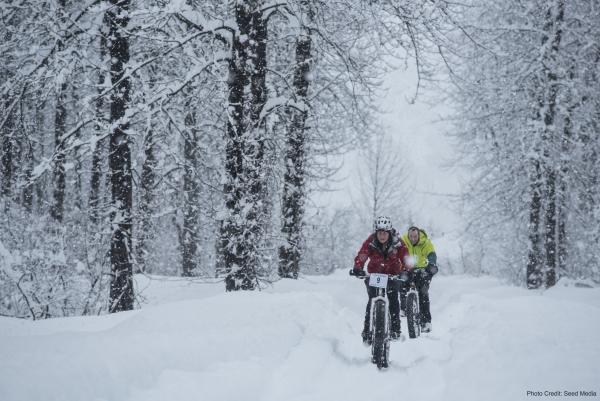 Photo by Seed Media
Bike Services in Valdez
If you're interested in hitting the trails in Valdez, consider a bike rental with one of our bike rental shops. If you have your own bicycle and need a tune up, bicycle repair services are also available in town.