---
---
The DOT Bike Path is a paved bike path in Valdez that runs from town out for approximately 6.5 miles (10.5 kilometers) to the Robe River subdivision. This section of the path runs along the Valdez Duck Flats and passes by the original Valdez townsite. This section also crosses over Crooked Creek, a great location for viewing spawning salmon in the later summer, as well as Valdez Glacier Stream, where bears are often sighted. Another section of the Bike Path heads for a few miles down Dayville Road, leading to more wildlife viewing opportunities at the Fish Hatchery. 
Locals and visitors alike who want to explore the bike path have a number of options for bicycle services in Valdez: bike rentals, electric bike rentals, and bicycle repair shops are all available in town.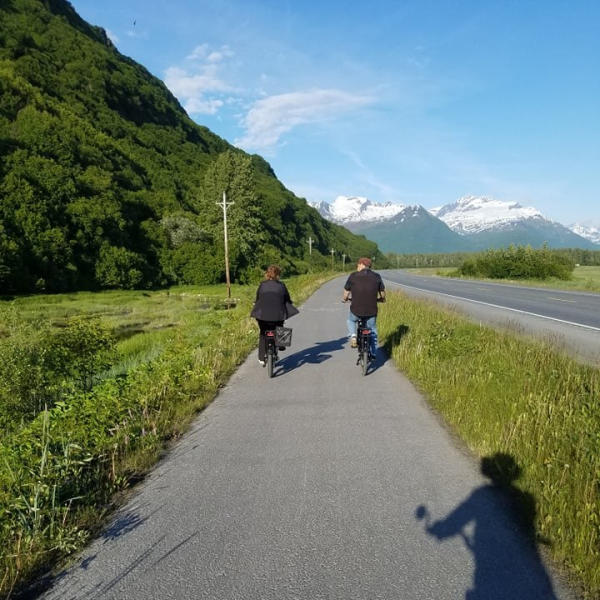 Photo from Valdez Electric Bike Rentals
How To Get There
Bicyclists may access the Bike Path from two separate paths at either end of town that merge together near Crooked Creek. The southern section in town begins near the intersection of Meals Avenue and Egan Drive. The northern section starts near East Hanagita Street and Providence Medical Center.
View more Valdez maps.
Safety & Etiquette
Bicyclists riding on the Bike Path should observe proper biking etiquette as outlined by the Alaska Department of Transportation: "A person operating a bicycle on a trail, path, sidewalk, or sidewalk area shall 1) exercises care to avoid colliding with other persons or vehicles; 2) give an audible signal before overtaking and passing a pedestrian, and 3) yield the right-of-way to any pedestrian."
Additionally, cyclists should be aware of some Valdez-specific safety concerns: bears! In the summertime, bears are often spotted in areas along the Bike Path. Cyclists should remember to stay "bear aware" and be observant for any bears along the path. If there are bears present in the area, please give bears plenty of space (100 yards or more).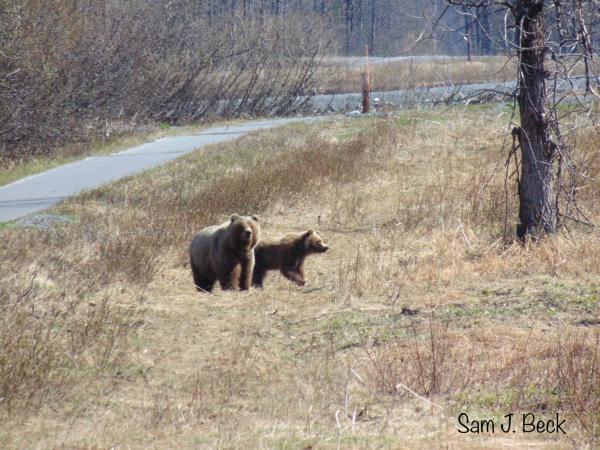 Bears along the Bike Path. Photo by Sam J. Beck. Remember to stay bear aware!