---
---
Old Town Valdez
About four miles outside of present-day Valdez is the original Valdez townsite, known as "Old Valdez" or "Old Town" to the locals. The city was relocated after after the devastating 1964 earthquake, but the Old Town site has been preserved as a memorial and walking tour of Valdez's history.
The site is easily accessible off the Richardson Highway. Look for it on your left as you drive into town.
Winter Uses
Groomed all-use winter trails for hiking, skiing, snowshoeing and snowmachining are available at Old Town during the winter.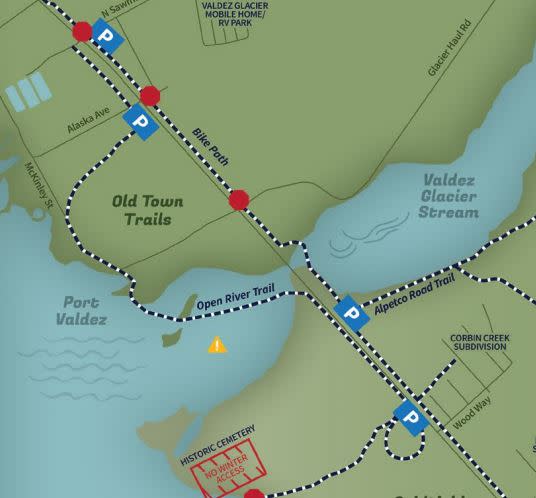 Map from Valdez Parks & Recreation's Winter/Spring 2021 Valdez Compass magazine
Photo Gallery
---
Old Valdez
---
Many long-time local residents remember Old Valdez. Ask around town, and you might just meet someone who witnessed the 1964 earthquake!
---
Old Valdez
---
The remaining foundation of the "Village Morgue" Bar that stood in Old Valdez.
Visit the Original Valdez Town Site! From the Valdez Museum