---
---
Trail Description
Shoup Bay Trail is divided into two parts: Section A and Section B. Both sections follow through a forest of spruce and alder along the coast of Port Valdez. The conditions on Section A are generally better maintained; Section B is more overgrown, and only recommend for experienced hikers. The Gold Creek camping area is located at the end of Section A and remote cabins are available at the end of Section B. Those who complete Section B are rewarded with an amazing view of Shoup Glacier.
Wildlife is present all along the trail. The surrounding forest and mountains are home to bears and mountain goats. The waters of Port Valdez and Shoup Bay are home to marine mammals including sea otters and harbor seals. Bird watchers will enjoy opportunities to spot eagles, waterfowl, gulls, Arctic terns, and even peregrine falcons. One of Prince William Sound's largest kittiwake rookeries is located in Shoup Bay. 
The trail is maintained by the Valdez Adventure Alliance - contact them if you'd like to volunteer!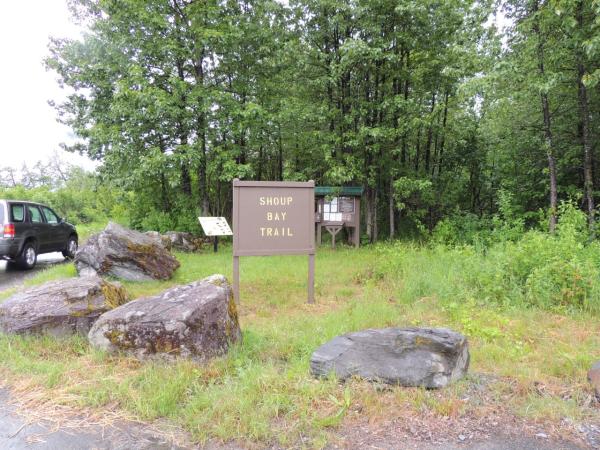 Shoup Bay Trail trail head. Photo from Valdez Adventure Alliance
Trail Safety and Etiquette
"The Gold Creek riverbed is prone to flooding and the stream channel changes often...Section B may be very muddy and difficult to follow at times due to overgrowth," Valdez Parks and Recreation
Hikers should be prepared for muddy areas on both Section A and B, and brush overgrowth on Section B. Boots and long sleeves are recommended, and rain-gear and bug-spray may also be helpful. In addition to the brush, hikers should keep aware of other plants along the trail: coming into contact with wild celery may cause skin irritation similar to a sun burn, and the Devil's Club plant is covered in prickly spines. Stinging nettle may also be found on a few sections of the trail. This is also bear country, so please remain bear aware. Hiking gear, rain-gear and bear spray are all available for purchase at our local outfitting stores. 
Please be respectful of wildlife and keep your distance; please remember to avoid littering by packing out everything you bring with you. 
Section A begins at the trail head on Egan Drive and runs through an alder forest to Gold Creek. This part of the trail crosses the Mineral Creek flats and several streams before opening into a meadow. Views of Port Valdez are available; the camping area at Gold Creek offers restrooms, food lockers, and a firepit.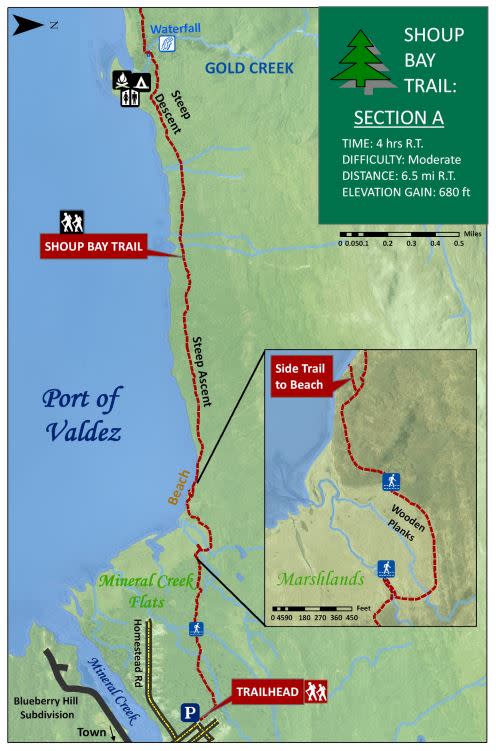 Photo from Valdez Parks & Recreation. View full trail guide. 
Trail Details
Difficulty: Moderate
Estimated Time: 4 hours round trip
Distance: 6.5 miles round trip (approximately 10.46 km)
Elevation Gain: 680 feet (approximately 207 meters)
Amenities: camping area, firepit, food lockers, restrooms
How To Get There
The trail head for Shoup Bay Trail Section A begins at Shoup Bay Park at the very end of Egan Drive. To reach the trail head, simply follow Egan Drive westward through Valdez until the road ends. Parking is provided on site. 
View more Valdez Maps
Section B starts at Gold Creek and runs to Shoup Bay. The trail leads through spruce forest and overgrowth of Devil's Club and salmonberry bushes. The last part of the trail crosses Uno Creek and descends towards an intertidal zone in Shoup Bay. The kittiwake rookery and Shoup Glacier may be observed from the end of the trail.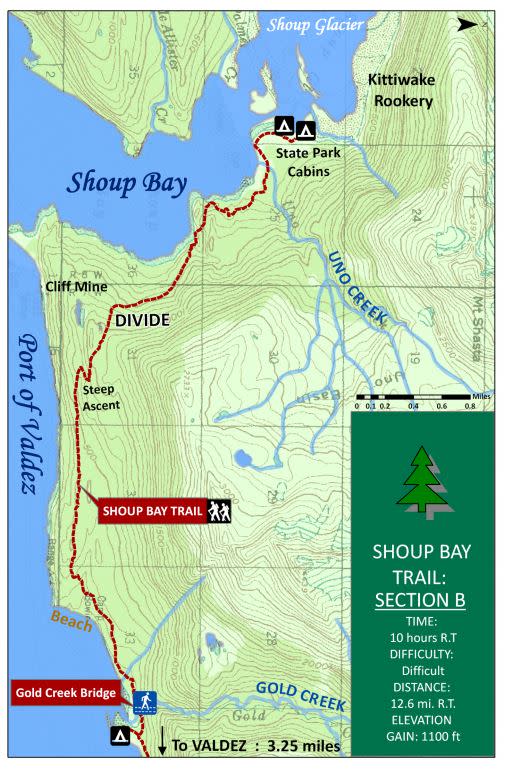 Photo from Valdez Parks & Recreation. View full trail guide. 
Trail Details
Difficulty: Difficult
Estimated Time: 10 hours round trip
Distance: 12.6 miles round trip (approximately 20.28 km)
Elevation Gain: 1100 feet (approximately 335 meters)
Amenities: remote cabin rentals
How To Get There
There are two ways to reach Section B. The first is to continue on from the end of Section A at the Gold Creek Bridge. The other option is to start from the Shoup Bay end of the trail and hike back towards Valdez. Local boat charters are available to reach the far end of the trail. 
View more Valdez maps
Photo Gallery