Grab a reel and cast a line this summer in Valdez, Alaska! Valdez is one of the best summer vacation destinations for travelers looking for an Alaska fishing adventure. From reeling in massive halibut to experiencing Alaska's world-renowned salmon run, there are plenty of fish in Valdez for anglers of all ages and experience levels. Whether embarking on an offshore fishing charter or casting a line from shore, you can catch enough fish to fill your freezer!
Around Valdez, opportunities abound to enjoy a relaxing day freshwater fishing along the lakes or streams. Anglers can relax in the land of the midnight sun and cast a line from shore at Blueberry Lake or Robe Lake. To supplement and diversify Valdez fisheries, state hatcheries release rainbow trout in Worthington and Blueberry Lakes as well as Ruth Pond in downtown Valdez. Arctic grayling and Dolly Varden can also be found swimming in the area's lakes and streams. The best time to fish for grayling is June and July in Blueberry Lake, and Dolly Varden can be found in Robe Lake year-round.
For a premiere Alaska fishing adventure, visitors can embark on offshore fishing charters, which are available daily. The waters of Prince William Sound are home to some of the biggest halibut in Alaska, multiple species of salmon and a diverse array of other fish. Half-day and full-day trips are available, and visitors can choose various locations and species to target. Most charters include tackle, bait and cleaning the catch of the day. Some charter companies will even coordinate shipping. Interested in booking a charter? Check out all the Alaska fishing charters available in Valdez.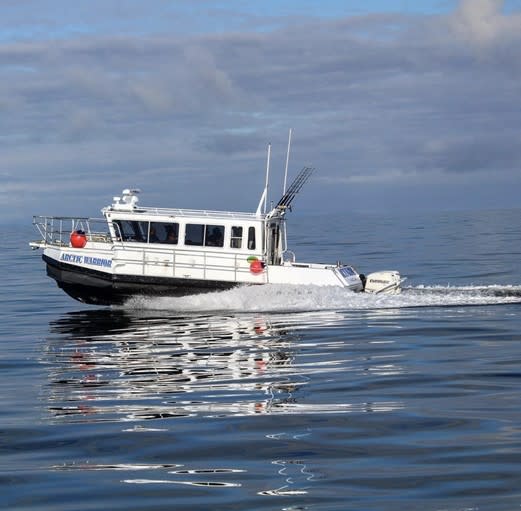 An Alaska fishing charter in Valdez is one of the best ways for travelers to reel in halibut and salmon while soaking up the surrounding area's beauty. Photo courtesy of Valdez Saltwater Adventures.
Red, silver and king salmon, plus halibut, rockfish and more! Each species found in Prince William Sound is unique in its migration patterns, and there are peak times throughout the year to reel in each one. Alaska is known around the world for its sustainable salmon population, and Valdez is one of the best places to catch them. Salmon season starts with the return of the largest salmon species. The peak of the run for king salmon, also referred to as Chinook, is May through July. Anglers in Valdez can catch pinks mid-June through late July. The best time of year to hook up with Sockeye or red salmon is June through mid-July, and the fishing season is capped off by the return of the silvers, or Coho salmon, which are abundant mid-July through August. Anglers wanting to reel in that barn door halibut should try to embark on an offshore Alaska fishing adventure in June or July. In addition to salmon and halibut, anglers can catch lingcod, rockfish and shrimp during the months of April through September.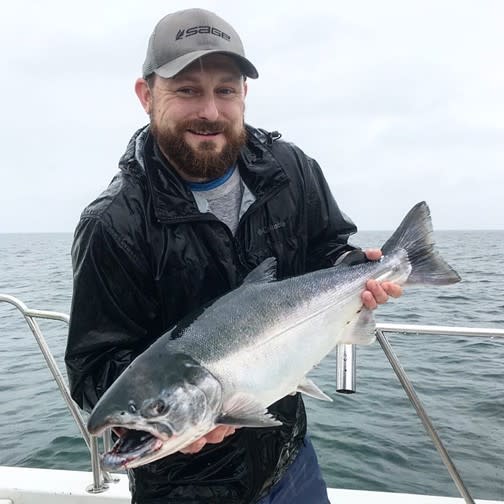 Valdez is home to many fish species, including Alaska silver salmon, which are also called Coho salmon. Photo courtesy of Valdez Saltwater Adventures.
For fishers who want a chance to walk away with more than memories and fresh seafood to fill their freezers, they can test their skills and net big prizes with the Valdez Fish Derbies. The cherry on top of the ultimate Alaska fishing adventure in Valdez? A cash grand prize! The Valdez Fish Derbies offer cash prizes to those who reel in the biggest salmon or halibut throughout the fish derby season.
The Valdez Fish Derbies kick off with the Valdez Halibut Derby, which runs from May through September. Then, the Valdez salmon derbies begin in July with the Silver Salmon Derby. The biggest cash grand prizes are $10,000 given for the Silver Salmon Derby and another for the Halibut Derby. Cash prizes for second and third place in the derbies are awarded as well. To up the ante, the Halibut Derby also awards first- and second-place weekly prizes for the biggest halibut of the week, while the Silver Salmon Derby awards first- and second-place prizes every day for the biggest silver salmon.
In July, kids also have a chance to show off their salmon wrangling skills at the Kids Pink Salmon Derby. Then, it's time for the ladies to test their luck at the Women's Silver Salmon Derby in August. There are plenty of small events throughout the summer as well, including the Halibut Hullabaloo, Big Prize Fridays and the Tagged Fish Contest. The Valdez Fish Derbies make Valdez a fun summer vacation destination for anyone who enjoys casting a line and a little friendly competition.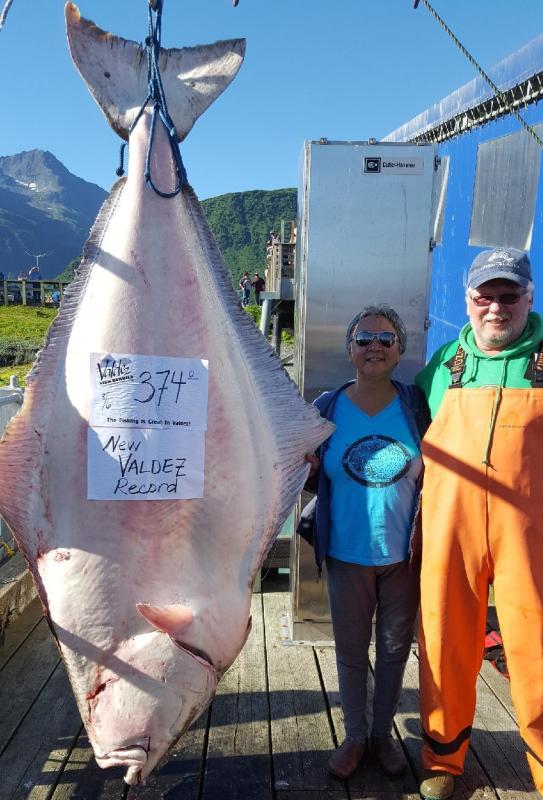 The oldest fish derbies in Alaska, the Valdez Fish Derbies are full of friendly fun and daily, weekly and grand cash prizes. Photo from Valdez Fish Derbies.
Before embarking on an Alaska fishing adventure in Valdez, it's important to first secure an Alaska fishing license and review the Alaska Department of Fish and Game's fishing regulations for Prince William Sound. Then, grab your gear and head to Valdez!