---
---
Brown bears (Ursus arctos) can be found in western Canada and some of the western United States, though most of their populations live today in Alaska, including Valdez. Brown bears are closely related, but distinct from, Valdez's other bear species, black bears (Ursus americanus). Many visitors to Valdez ask about the distinction between "brown bears" and "grizzly bears"; these names both refer to the same bears, though the name "brown bear" is used in coastal Alaskan communities (like Valdez), while "grizzly bear" is used in Interior Alaska (like our neighbors up the road in the Copper River Valley). 
The differences between brown bears and black bears is not always in the color of their fur, as both species have a range of colors they may appear in. Brown bears are distinguished from black bears by having large bodies, smaller ears and a shoulder hump.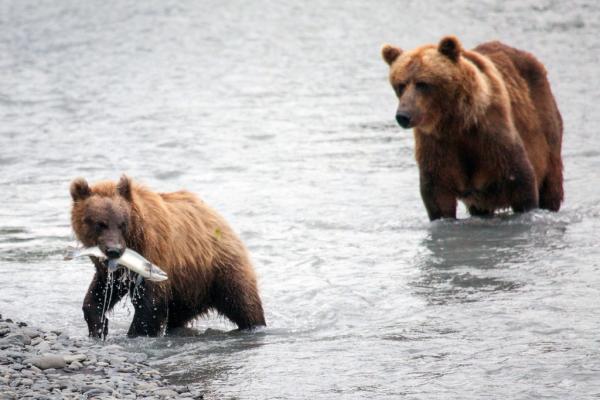 Photo from Pangaea Adventures
Behavior
Brown bears hibernate through the winter in dens. After emerging from hibernation in the spring, brown bears will often eat plants such as skunk cabbage and wild celery. They may also be seen digging holes to hunt for tubers or small mammals. In the summer and fall the brown bears will focus on consuming berries and the annual runs of salmon that return to Valdez. Female bears, called "sows", have litters of one to four cubs that are born in the den during the winter and will stay with the mother for a few years.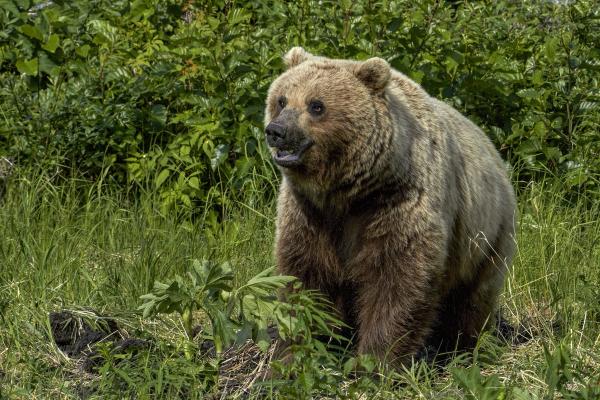 Brown bear sow digging holes. Photo by Gary Minish 
Safety & Etiquette
"Brown bears and people can co-exist as long as we treat bears with respect and learn as much as possible about their needs and behavior," Alaska Department of Fish and Game
Everyone interested in viewing brown bears should practice standard bear awareness that is applicable to both black and brown bears, such as keeping 100 yards distance, making noise while hiking, and secure food and garbage. Take special caution around sows with cubs: while brown bears are generally tolerant of humans, sows will aggressively defend their cubs if threatened. Additionally, the avoid blocking traffic if viewing bears from along a street or highway: the Valdez locals will appreciate it!
However, there are some specific details relevant to brown bears in particular. Valdez Parks & Recreation offers this advice: "When dealing with a brown bear: If the animal makes contact, curl up into a ball on your side, or lie flat on your stomach. Be sure to cover the back of your neck with your hands and wrap your forearms around your face. Try not to panic; remain as quiet as possible until the attack ends. Be sure the bear has left the area before getting up to seek help."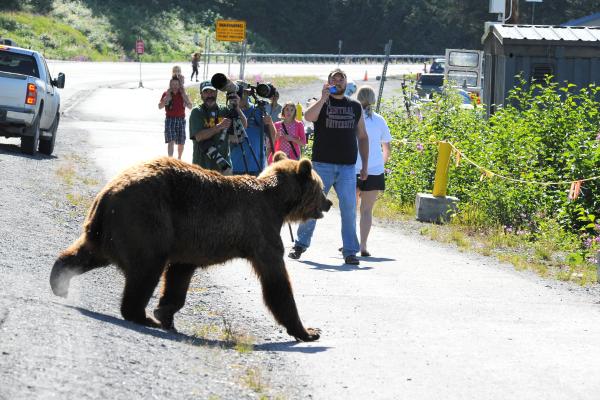 Give Bears Space! These people are TOO CLOSE! Photo by Bob Benda
Viewing Locations
Due to our remote coastal location, while still being on the road system, Valdez offers some of the best opportunities for bear viewing in Alaska. 
Brown bears can be seen in a number of areas around town, along the Richardson Highway and out on our many miles of hiking trails. The best brown bear viewing is in the later summer when salmon are returning to Valdez to spawn. Bears may be seen fishing in the anadromous streams around Valdez or at the Fish Hatchery on Dayville Road. A viewing platform is provided over Crooked Creek to allow spectators safely to view both spawning salmon and another wildlife (including bears!) that may choose to feed there.