A dream vacation destination at any time of year, an abundance of winter and summer adventures await in Valdez. Photo courtesy of Discover Valdez.
Untouched, yet within reach, there's a reason Valdez is known for its small-town charm and big adventure attitude. A mix of ocean, rainforests and mountains, Valdez is surrounded by unparalleled landscapes that make it a dream vacation destination for adventure travel, solo travel, a family vacation and all travels in between. No matter the season, Valdez has endless places to explore, 365 days of the year.
A Winter Wonderland
Home to abundant snowfall and thrilling winter sports, our coastal community boasts the reputation of being the ultimate winter travel destination. Averaging 27 feet of snow in the winter, Valdez is the snowiest town in the nation. Our community offers every winter activity imaginable -- including some of the best backcountry snowboarding and skiing in Alaska.
With fresh, pristine powder and endless miles of Alaska's most epic terrain, nearby Thompson Pass is perfect for winter sports enthusiasts ready to get their adrenaline pumping. In Thompson Pass, visitors can enjoy an adventure-filled day of fat tire biking, heli-skiing, snowboarding, snow machining, ice climbing, cross-country skiing and snowshoeing.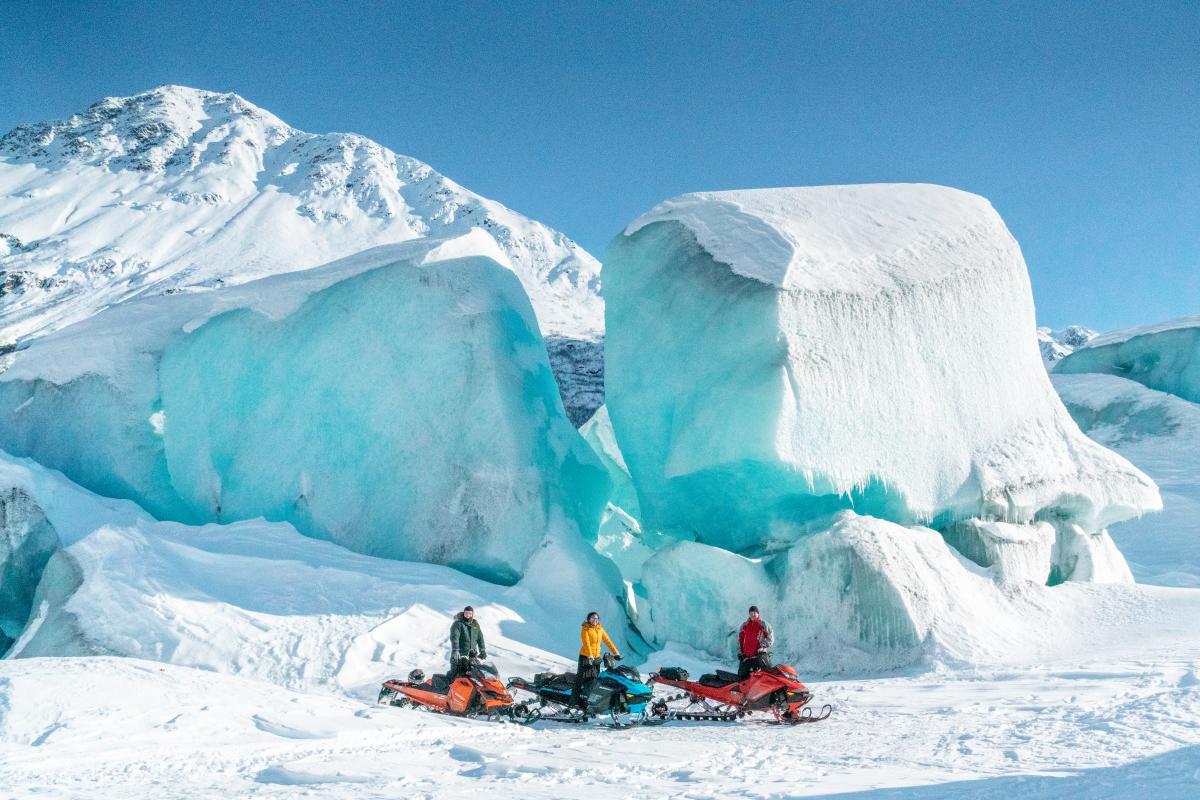 As the snowiest town in the nation, Valdez is one of the best winter travel destinations. Photo courtesy of Amanda Mitchell.
At the first snowfall, hiking trails transition into cross-country skiing and snowshoeing trails. There are several trails in Thompson Pass and miles of well-maintained and easily accessible trails close to town. The Prince William Sound College Health & Fitness center provides free cross-country skiing and snowshoe equipment rentals, and there are several local businesses that offer fat bike rentals.
Valdez Glacier Lake is a unique location in town for snowshoeing, cross-country skiing and fat tire biking. In the winter, the lake becomes a frozen winter wonderland surrounded by massive icebergs from the nearby glacier. The icebergs create amazing natural sculptures that visitors can snowshoe, ski or bike around. As a reminder, it is important to check conditions and ensure the lake is fully frozen before exploring.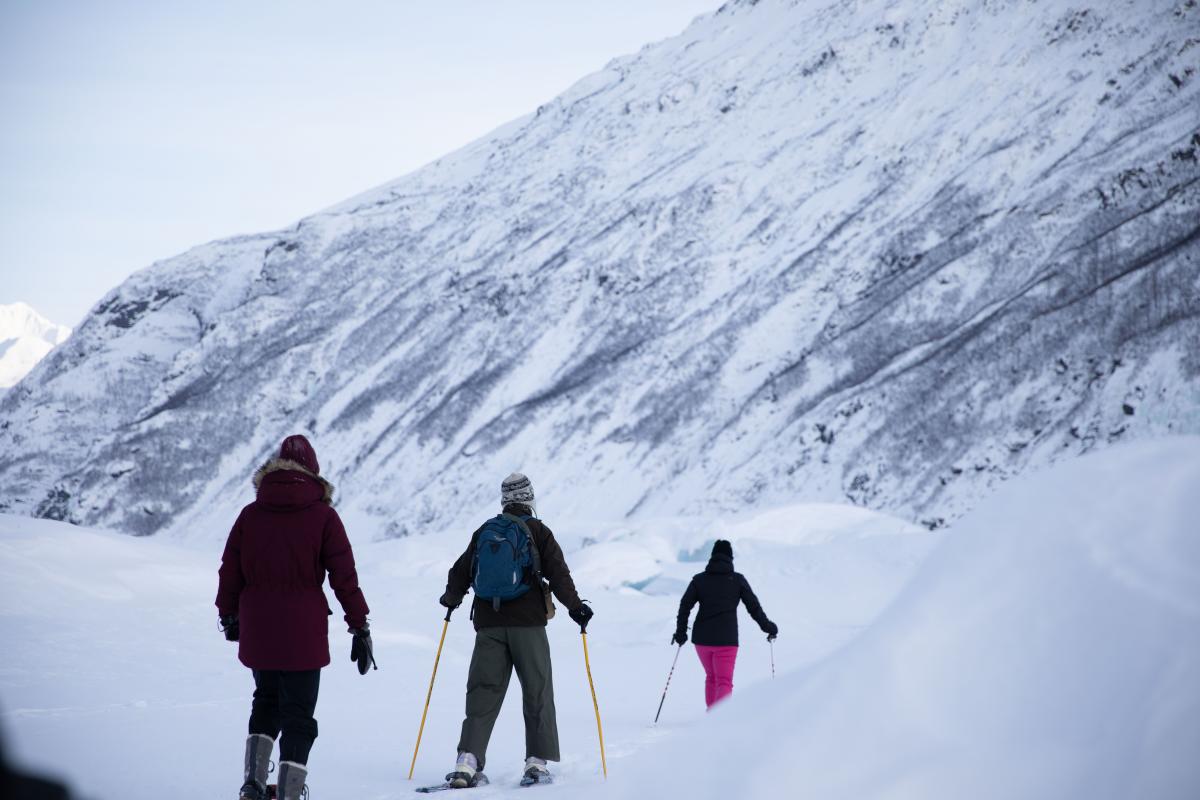 Snowshoeing around Valdez Glacier Lake is one of the many winter activities offered in Valdez.
Another incredible winter experience Valdez offers is an opportunity to view the northern lights. A once-in-a-lifetime experience, Valdez is a great destination to see northern lights in Alaska thanks to our wide-open spaces and ample viewing locations close to town.
Summer Fun
As the snow begins to melt and winter transitions to summer, icy mountainsides turn into cascading waterfalls. Valdez, once covered in a blanket of snow, transforms into a lush green landscape brought to life even more by the rippling blue water of Prince William Sound. Just as in the winter, the opportunities for exploration are endless in the summer under Alaska's midnight sun.
Kayaking, rafting, rocking climbing, biking, wildlife cruising, fishing and hiking are just a few of the adventures that await. What was once a winter wonderland for snowshoeing, skiing and biking, Valdez Glacier Lake transforms into the perfect location for leisurely kayaking around icebergs and ice caves.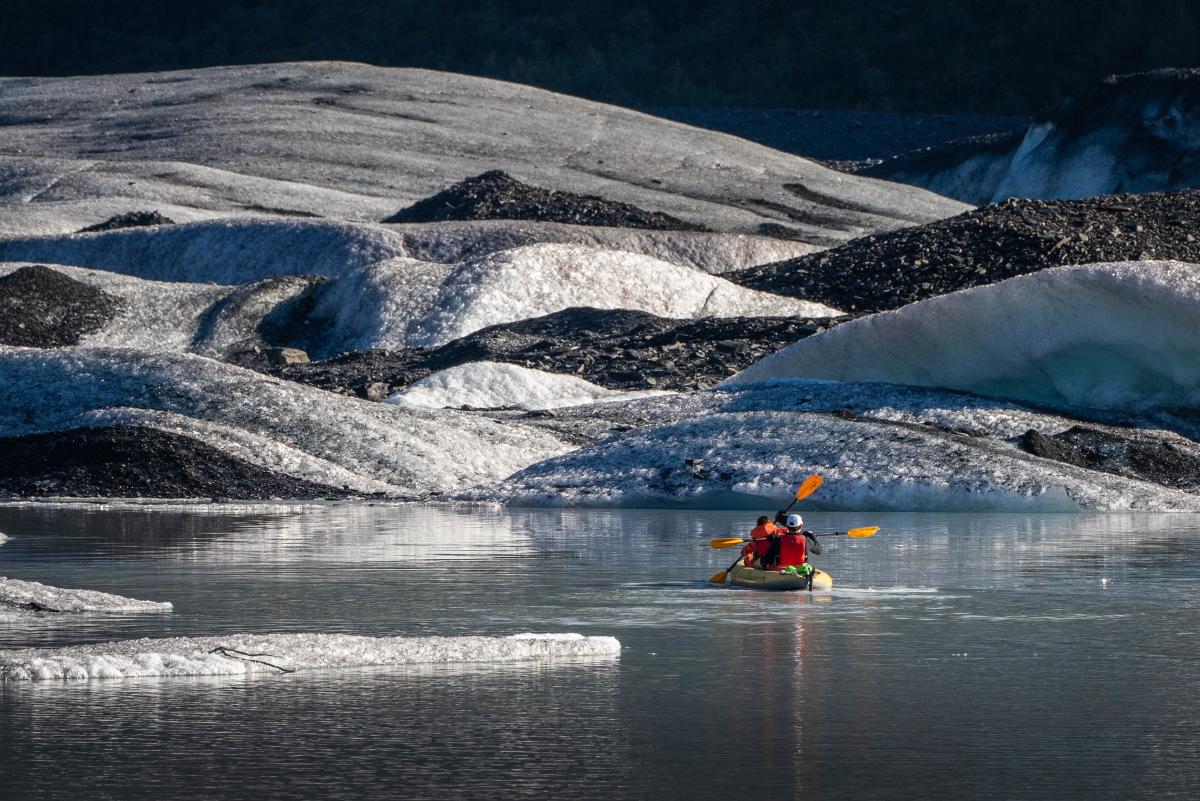 When planning summer travel to Valdez, kayaking around Valdez Glacier Lake is a must-add to your travel itinerary. Photo courtesy of Jody Overstreet.
Boasting some of Alaska's most scenic and historic trails, hiking is a must-do. There are trails of all lengths and difficulty levels in town and in Thompson Pass. Along our hiking trails, visitors will often discover waterfalls, wildlife, and a sense of adventure amid Valdez's picturesque beauty.
When planning summer travel to Valdez, another must-do activity is spotting wildlife! The surrounding Chugach Mountains come alive with black and brown bears, moose, hoary marmots, mountain goats and more. Of course, Valdez being a coastal community means a visit to Prince William Sound wouldn't be complete without time spent viewing orcas, Dall's porpoise, Steller sea lions, sea otters and seals.
The waters of Valdez are also home to an abundance of salmon. Crooked Creek Information Site and Solomon Gulch Fish Hatchery are two unbeatable locations to view spawning salmon. Plus, Crooked Creek Information Site offers friendly and informative staff members who educate visitors on the surrounding landscape and wildlife. Solomon Gulch Fish Hatchery is where visitors can learn about spawning salmon and the salmon life cycle. After exploring the hatchery, there is time for a beautiful hike along the nearby John Hunter Memorial Trail.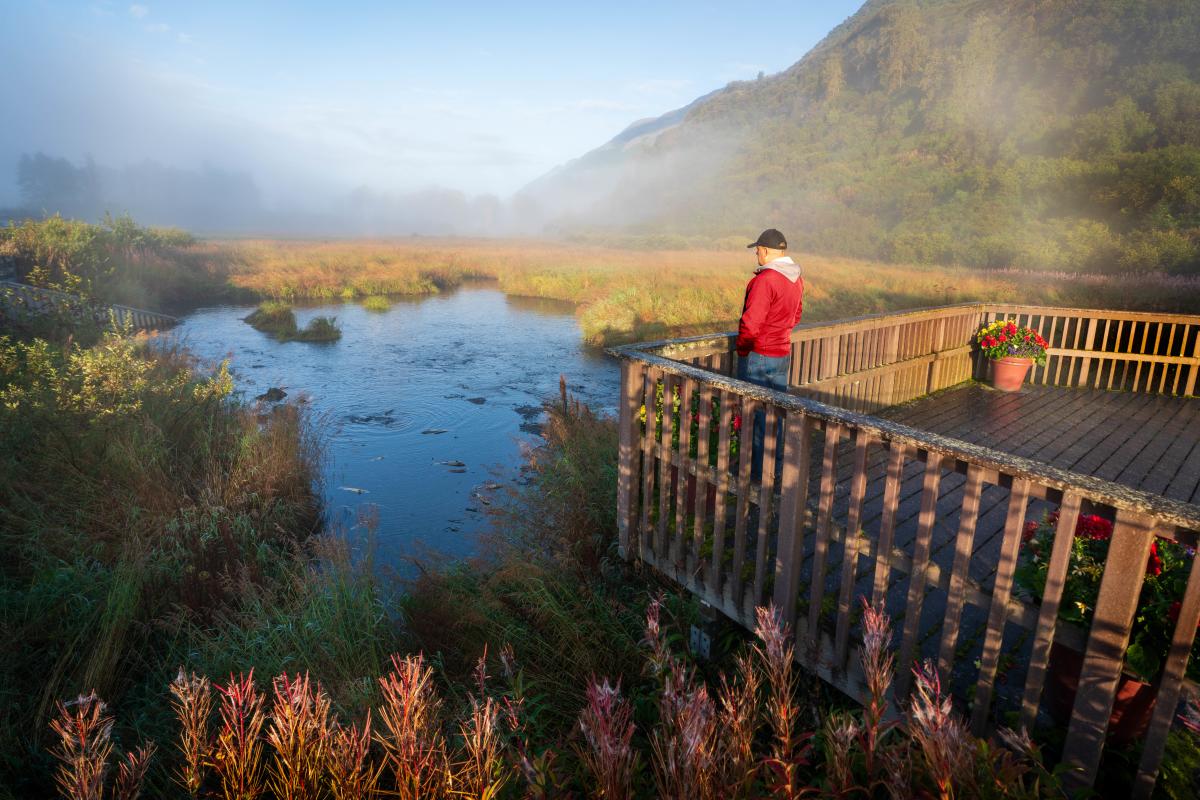 Crooked Creek Information Site is a great location in town to view spawning salmon and learn more about the area. Photo Courtesy of Jody Overstreet.
Community Events
There are several exciting events held in Valdez throughout the year, and some of our town's biggest and most thrilling annual events take place in the winter. Popular winter festivities include the Valdez Ice Climbing Festival (February), Mayor's Cup Snowmachine Race (March), Snowkite Festival (April) and the Fat Bike Festival (April), to name a few.
There are also several exciting events in the summer. People from across the world visit Valdez for the Valdez Fish Derbies (the oldest fish derbies in Alaska), the Valdez Fly In & Air Show (May), the Last Frontier Theatre Conference (June), Gold Rush Days (August) and the Richardson Highway Rendezvous (August). Check out our online events calendar to stay updated on what's happening around town.
Around Town
At any time of year, travelers can relax at local breweries, restaurants, and coffee shops. Spend a day strolling along the harbor, perusing the Valdez Museum and Maxine and Jesse Whitney Museum, admiring local art at the Valdez Art Co-Op or shopping for souvenirs and gifts.
Undoubtedly, Valdez is a dream vacation destination at any time of the year. And, planning the perfect winter travel or summer travel itinerary is made even easier with our online free vacation planner. From adventure travel to solo travel to planning the best family vacation, Valdez has an adventure for everyone.