---
---
Wild Irises
Wild Irises (Iris setosa) grows one to two feet tall and produce three large purple colored sepals and three smaller petals. Irises can be found in wetland areas, meadows, or along lakes. They grow in most of Alaska south of the Brooks Range.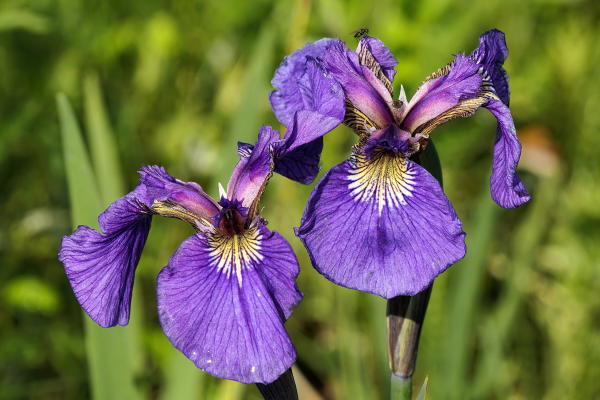 Photo by Gary Minish
Safety Information
A number of sources report wild irises to be poisonous. Avoid consuming any part of this plant - they're much better to look at any ways! Additionally, the areas in Valdez where wild irises may be easily seen are often areas where bear sightings are common, so remember to remain bear aware while admiring irises in the wild. 
Viewing Locations
According to the USDA's guide to Wildflowers of the National Forests in Alaska, wild irises are found in "wet upper beach meadows, upper estuaries, wet lowland meadows". In Valdez, look for wild irises can be found near Crooked Creek and the Valdez Duck Flats. Look for them from the bike path running along the Richardson Highway. Irises may also be spotted in the Mineral Creek Flats along Section A of the Shoup Bay Trail. 
Wild irises are perennials, and will occur in the same location each year. They bloom in June, and late June is the best time to spot them around Valdez.