---
---
Hogback Ridge & Hogback Glacier
Hogback Ridge (sometimes called Hogsback Ridge) is a mountain ridge located in Valdez, Alaska. Hogback Ridge is part of the Chugach Mountains. Snowmelt and glacial melt from Hogback Ridge feeds the Lowe River and Horsetail Falls. Hogback Glacier (sometimes called Hogsback Glacier) is located in the ridge. 
How To Get There
Hogback Ridge may be viewed from along the Richardson Highway when driving in or out of Valdez. The ridge may also be viewed from Thompson Pass via the Thompson Pass Pack Trail. Viewing access to Hogback Glacier is available via the "Out of Town" Trail system.
Safety & Etiquette
Those using the Glacier Loop Trail should be aware of the avalanche area around Hogback Glacier.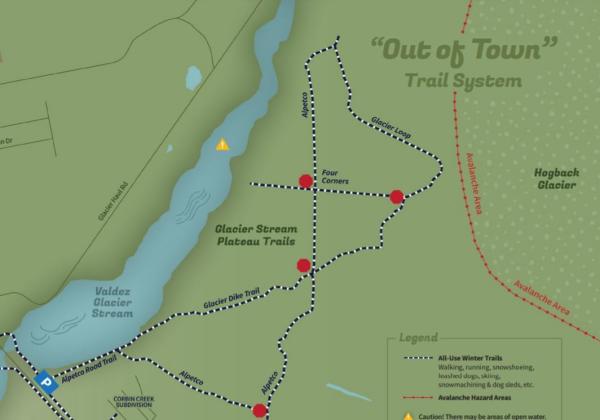 Map from Valdez Parks & Recreation's Winter/Spring 2021 Valdez Compass magazine
History
According to the US Geological Survey, Hogback Glacier was named in 1898 by Captain W. R. Abercrombie. The annual Mayor's Cup Snowmachine Race, an annual race in Valdez since 1998, features a race-course which travels around Hogback Glacier.