Brown bears are commonly seen in the summer around Valdez. Photo by Ed Pinsky. 
From the waters of Prince William Sound to the peaks of the Chugach Mountains, there is no shortage of wildlife in our coastal community. Humpback whales, brown bears, sea lions, bald eagles and more – visitors can find an impressive array of iconic Alaska wildlife in Valdez throughout the year. 
Thanks to warmer, seafood-rich waters, summer is a great time to embark on whale watching tours in Valdez. Whale watching season in Alaska starts as early as April, when humpback whales migrate north to Valdez to feed before migrating south in September and October
An Alaska summer in Prince William Sound wouldn't be complete without orcas, Dall's porpoise, Steller sea lions, sea otters and seals. These marine wildlife species are often found swimming in Prince William Sound or sunbathing on rocky shores. The waters around Valdez are also home to an abundance of salmon. King, sockeye, pink and Coho salmon can all be reeled in from Prince William Sound or from local streams. Depending on the species, peak salmon season starts as early as May and extends through August.
A local will likely tell any visitor that one of the best places to view wildlife in the summer is out in Prince William Sound. There are a number of wildlife and glacier cruises, Alaska fishing charters and sea kayaking tours in Valdez that provide great views of marine wildlife and operate in correlation with peak whale watching season in Alaska. For a more unique wildlife viewing experience around Valdez, another guided option is embarking on a flightseeing tour.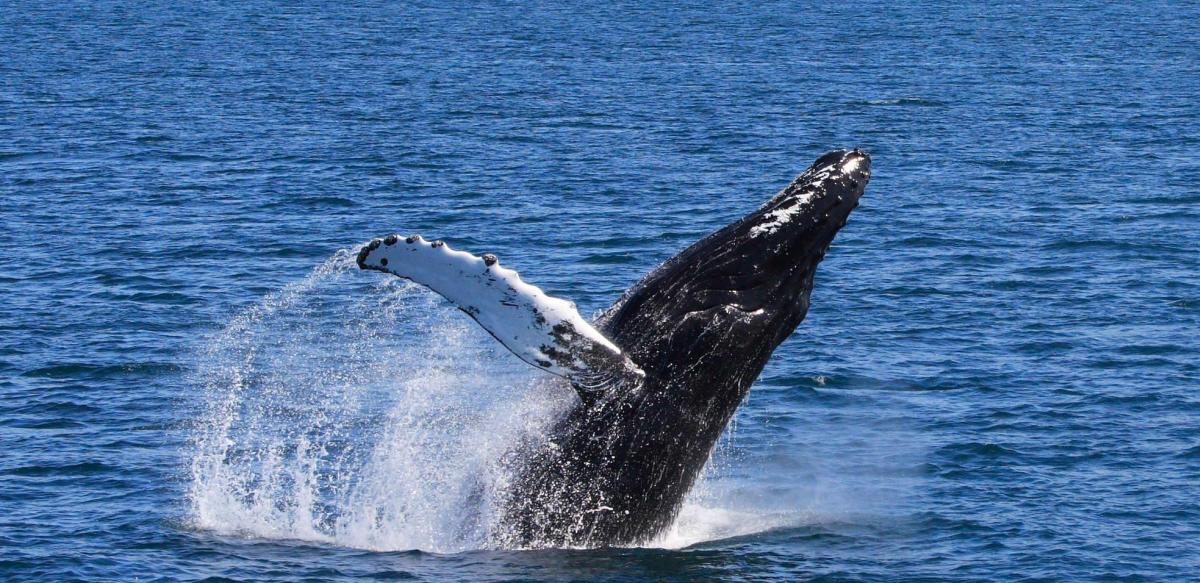 Humpback whales migrate to Valdez in the summer to feast in the seafood-rich waters. Photo from Stan Stephens Glacier & Wildlife Cruises. 
On land, brown bears, moose, hoary marmots, mountain goats and rabbits dwell in the surrounding Chugach Mountains. Visitors can spot black and brown bears in late April or early May once they emerge from their winter dens. After feasting on salmon, berries and other foods all summer long, bears typically return to hibernation in October and November. A Labor Day weekend getaway to Valdez is a great last-chance opportunity to catch a glimpse of Valdez's summertime wildlife. 
While Prince William Sound is home to an array of unique marine wildlife, wildlife can also be spotted on land at many local sites including the Valdez Duck Flats, Thompson Pass, Crooked Creek, Dayville Road and Solomon Gulch Fish Hatchery. At the hatchery, seals, Steller sea lions and brown bears feasting on the returning salmon are a common sight. 
Though Valdez is teeming with wildlife in the summer months, winter also offers plenty of opportunities to view Alaska wildlife. Home to the continent's northernmost ice-free port, marine wildlife like sea otters and Steller sea lions stay in Valdez year-round. In addition to marine wildlife like sea otters and Steller sea lions, winter visitors also have the chance to spot moose, porcupines, rabbits, lynx, coyotes and mountain goats.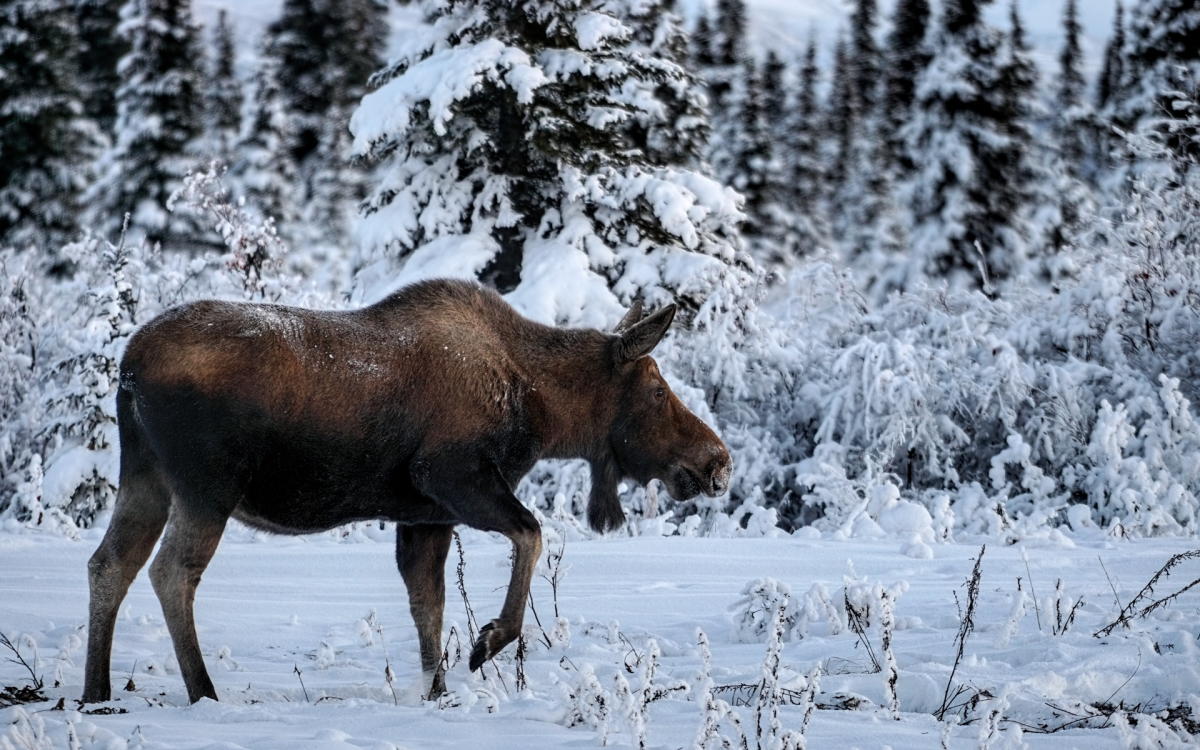 Photo by Gary Minish
Around Valdez, wildlife dominates the sea, land and sky. Valdez is a premier destination for bird watching year-round. Eagles, magpies, blue herons, arctic terns, kingfishers, puffins, kittiwakes and trumpeter swans are among the species that may be spotted in or near Valdez. In fact, Prince William Sound is home to over 220 different seabird species! Walking along the Valdez Small Boat Harbor, visiting the Solomon Gulch Fish Hatchery or hiking along a nearby trail are great ways to spot multiple species of birds. For birders, Valdez is a dream vacation destination at any time of the year.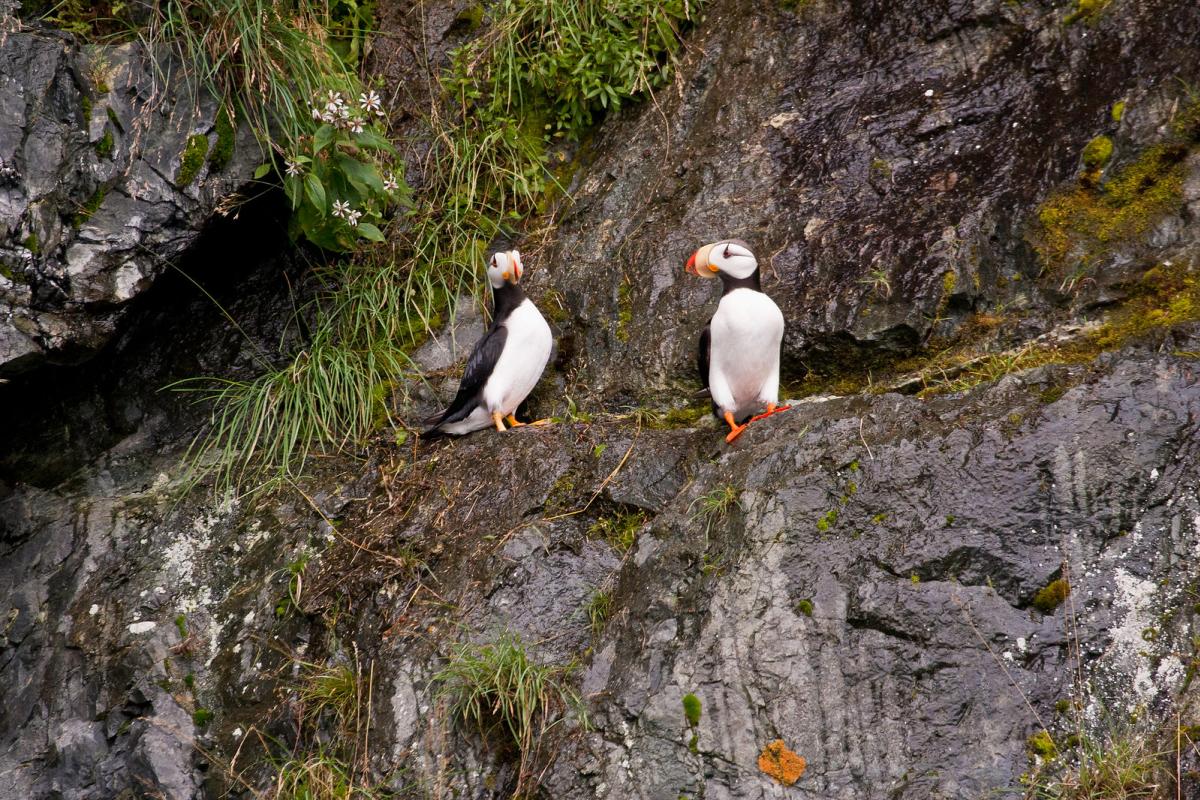 Both Horned Puffins and Tufted Puffins may be spotted along Glacier Island near Valdez. Photo from Stan Stephens Cruises. 
As a reminder, it's important to always maintain a safe distance, be prepared with proper gear and respect the wildlife around Valdez no matter the season. Black and brown bears are some of Valdez's most prominent wildlife so be sure to brush up on Alaska's Department of Natural Resources bear safety guide before exploring. 
Whether you're planning a staycation in Alaska, a Labor Day weekend getaway or an Alaska winter getaway, be sure to add wildlife viewing to your Valdez travel itinerary. Then check out our online vacation planner to make the most of your visit!