Galena Drive
Galena Drive is one of the shorter and quieter streets in downtown Valdez, though it still offers a number of attractions for visitors. There isn't much traffic on Galena, and is perfect for a bike ride or walk to take in the beautiful mountain views. Visitors to Valdez often stop on Galena to pay their respects at the Veterans Memorial Park. Other attractions include our local brewery, the Orca Bay Gift Shop, and a vaudeville theatre show that runs in the summer. Excellent overviews of Galena Drive and all of downtown Valdez are available by hiking up the adjacent Civic Center Hill.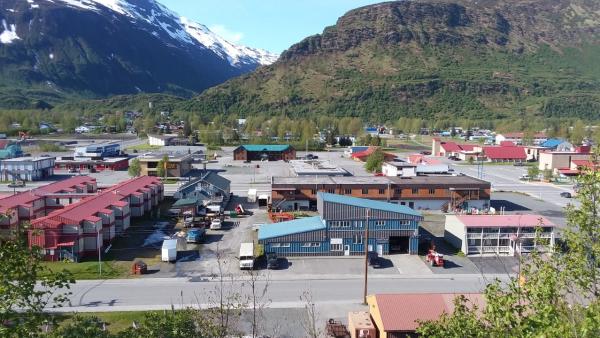 Looking down on Galena Drive and Valdez from Civic Center Hill. 
How To Get There
Galena Drive runs East-West from Meals Avenue to Hazelet Avenue. It is bisected by Tatitlek Avenue. 
See more Valdez maps. 
Photo Gallery
Swipe through our photo gallery to take a virtual walk down Galena Drive (traveling East from Hazelet Avenue to Meals Avenue).