---
---
Humpback whales (Megaptera novaeangline) spend the winter in warmer waters around Mexico and Hawaii but return to the waters of the Pacific Northwest every spring. Many humpbacks will spend the spring and summer in Prince William Sound in order to feed on shrimp krill and small fish. Humpbacks are baleen whales, meaning they use a filter feeding system inside of their mouth (known as baleen) to filter out krill from the water. Pods of humpbacks may be observed using a technique known as bubblenet-feeding to entrap schools of fish. These whales may also be seen breaching, an activity in which they propel their bodies out of the water. The Alaska Department of Fish and Game has more information on humpback whale behaviors.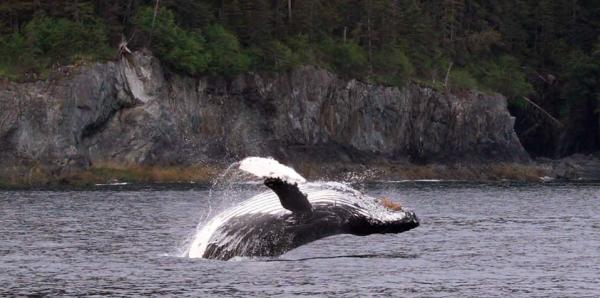 Photo by Captain Amanda Bauer of Stan Stephens Cruises
Safety Information
"Marine mammals are all protected by federal law. In Alaska, approaching humpback whales closer than 100 yards is prohibited by federal law," NOAA Fisheries
Please respect our wildlife! If you're viewing whales from your personal boat or kayak, please approach no closer than 100 yards (91 meters) and do not place your vessel in the path of oncoming whales. For more details, please consult the Marine Mammal Viewing Guidleline for Alaska from NOAA Fisheries.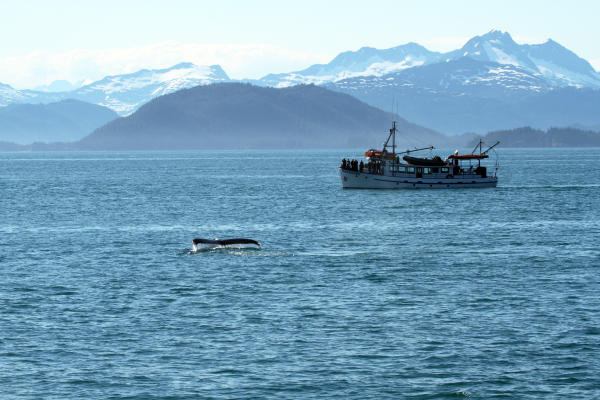 Photo by Selah Bauer
Viewing Locations
Humpback whales may be seen in Valdez and Prince William Sound during the spring and summer. If you're lucky, you may be able to see them from shore when the whales come into Port Valdez to feed. Look for them on either side of the bay; the Fish Hatchery and Kelsey Dock are options. However, the best option for whale watching is to head out into Prince William Sound with one of Valdez's local wildlife tour operators. Whales in the Sound can be spotted from cruise boats, kayaks, and even helicopters.