---
---
Shana Anderson Dog Park
The Shana Anderson Dog Park in Valdez, Alaska offers an enclosed area for dogs to play. The main park is for dogs for older than 4-months. The adjacent "Happy Tails" Puppy Park is for dogs 4-months or younger. The Dog Park is one of Valdez's many offerings for pet owners; travelers with pets will also want to consider our pet friendly accommodations.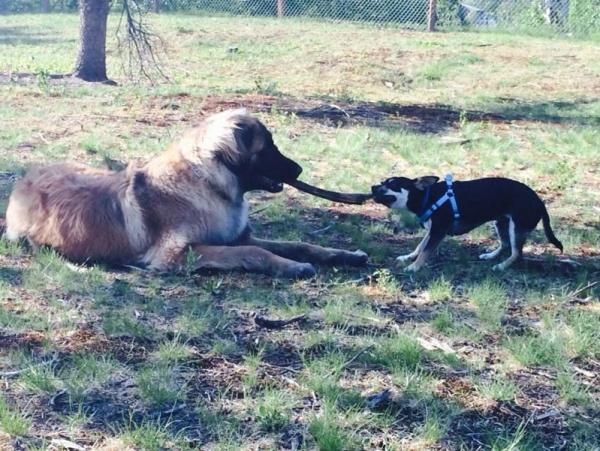 Photo from City of Valdez
How To Get There
The Dog Park is located on Meals Avenue, next to the Providence Valdez Medical Center. 
View more Valdez maps. 
Safety & Etiquette
City of Valdez Parks & Recreation established the following rules for the Dog Park:
Patrons use the park at their own risk.
Handler is responsible for picking up and disposing of their dog's waste in designated receptacles.
No aggressive dogs.
No excessive barking.
Dogs in heat are prohibited.
Handlers are limited to 3 dogs.
No dogs under 4 months of age.
Handlers must be 16 years of age or older.
No food or smoking within the fenced area.
All dogs must be leashed when entering and exiting the park.
Children under 12 are not permitted without a responsible adult.
Handlers must carry a leash with them at all times while in the park.
Handlers are liable for any injury or damage caused by their dog(s).
Dogs shall be licensed and vaccinated with a tag on their collar at all times.
Dogs must be under the control of their handler and attended to at all times.
Handlers must stop their dogs from digging and are responsible for filling any holes their dog makes.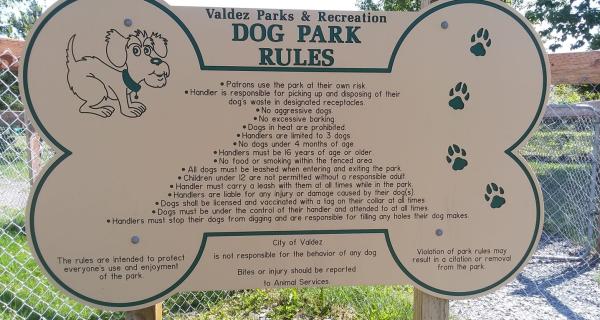 Dog Park Rules sign posted at the entrance to the park.