---
---
Halibut
Pacific halibut (Hippoglossus stenolepis) are found in the waters of Prince William Sound. 
Fishing Season
The best halibut fishing starts around the middle of May and extends through August, but good fishing for halibut can be had right through summer and into early fall. Halibut in the 50-100 pound range are caught frequently and fish in the 100-300 pound range are caught fairly often. Each year the Valdez Halibut Derby is won by fish in excess of 200 pounds. The 2006 winner weighed in at a whopping 343.6 pounds!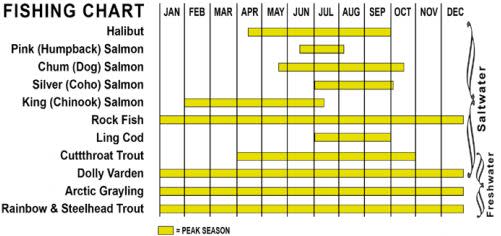 Fishing Locations
"Halibut are found throughout Prince William Sound waters, on or near the bottom over mud, sand, or gravel banks and below steep drop-offs. Near Valdez, they can be found in the Narrows and along the coastlines of the numerous islands in eastern Prince William Sound," Alaska Department of Fish & Game
Halibut fishing out of Valdez is best out in the southern portions of Prince William Sound around Montague and Hinchinbrook Islands and into the northern portions of the Gulf of Alaska. Some halibut are caught around the other islands in the Sound and even up near Valdez but it is less consistent than further out.
Take out a local fishing charter to explore Prince William Sound!