---
---
This is a short, well maintained trail that follows Mineral Creek to meet with the waters of Port Valdez. Access to the trail is off of Homestead Rd. This is a great place to spot wildflowers, birds, and the ocean! This trail is accessible in the winter as well.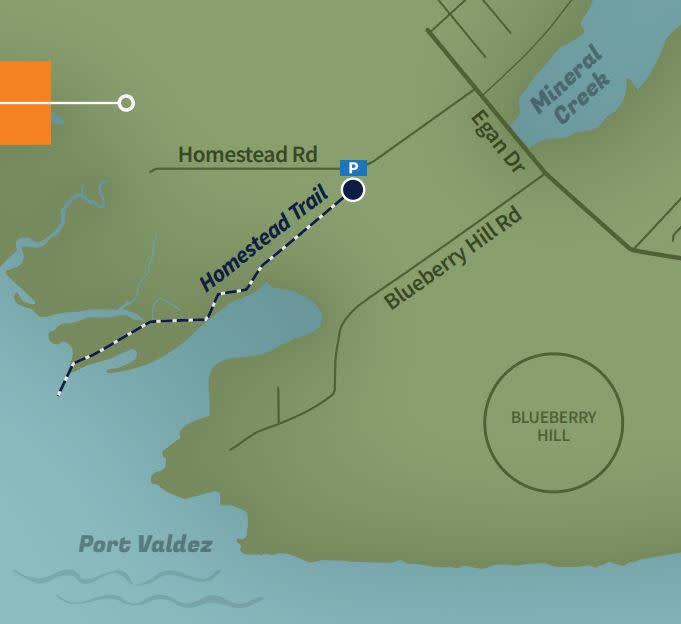 Map from Valdez Parks & Recreation's Winter/Spring 2021 Valdez Compass magazine
How to Get There
To access Homestead Trail from Valdez, follow Egan Drive over the the bridge on Mineral Creek, and turn left on Homestead Road. The trail head will be on the left side of the road. 
Amenities
Homestead Trail includes a pet station for those walking their dogs on the trail. A bench is placed at the end of the trail facing the beach for those interested in viewing the ocean. Parking space is available at the trail-head. 
Trail Safety & Etiquette 
While this is a short, well groomed trail, it is still important to practice basic bear-awareness during the spring and summer. Make noise as you walk, and be aware of your surroundings. 
In order to protect the sensitive beach grass habitat, motor vehicles, fires, and camping are prohibited on Homestead Trail. 
Wildlife Viewing
In the late summer and early fall, the creeks alongside Homestead Trail become great viewing locations to see runs of spawning salmon. Pink salmon prefer spawning in smaller, shallower creeks like those along Homestead Trail, and during this time you'll be able to see birds and other wildlife feeding on the salmon. Return in the spring as the snow melts, and you may see young salmon fry emerging in the very same streams.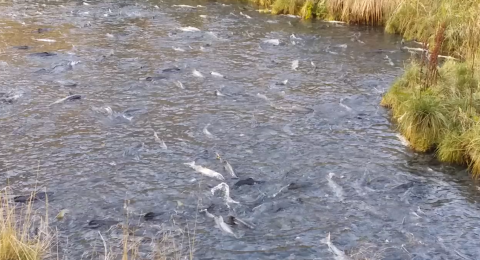 Salmon seen from Homestead Trail. 
---
Homestead Trail
---
Homestead Trail is an easy, family-friendly walk. Photo by Selah Bauer
---
Homestead Trail
---
In the late summer and early fall, look for salmon spawning in the streams along Homestead Trail!