Chitina
Chitina is located at the end of the Edgerton Highway, and at the entrance to the Wrangell-St. Elias National Park. There is a Ranger Station in Chitina located in a historic log cabin. 
To reach Chitina, take the Richardson Highway north from Valdez or south from Glennallen. At Mile 82.5 of the Richarson Highway, take the Edgerton Highway east. 
Lodging and fishing in Chitina is available with AK eXpeditions. 
Liberty Falls
If you're on the road heading towards Chitina, look for Liberty Falls State Recreation Site at Mile 23.5 of the Edgerton Highway. The recreation site is easily accessible from the road and offers camping facilities.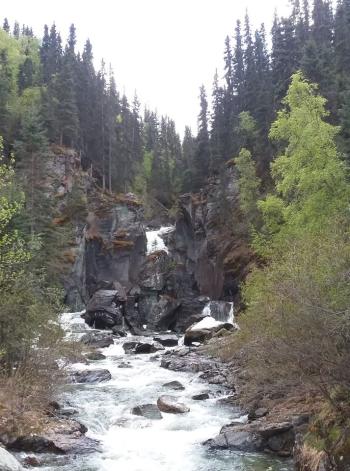 Liberty Falls near Chitina, Alaska
O'Brien to Haley Creek Trail and 5 Mile Trail. From the National Park Service.