The Goat Trail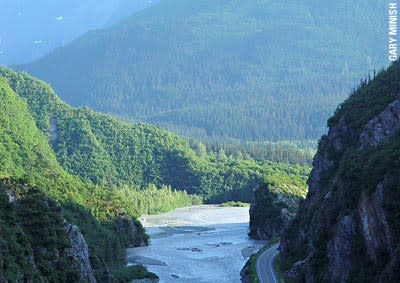 W.R. Abercrombie, a Lieutenant in the US Army, was sent to Valdez with orders to find or build a road connecting Valdez to the interior of Alaska.
After many searches, in 1898 he found an old native trail that began in Keystone Canyon. By 1909 the trail was widened and ran from Valdez to Eagle and was called the Military or Valdez Trail.
In July 1919, the road through the Canyon was destroyed by excessive flooding, and by 1921 it was rebuilt. Its name was then changed to the Goat Trail. It was used for many years by travelers and military personnel traveling to and from the interior of Alaska.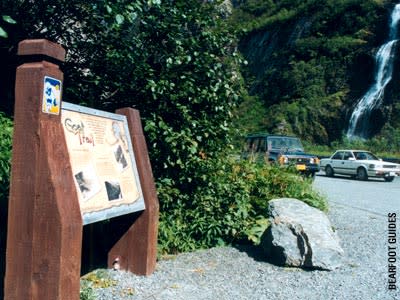 This historic trail was to Alaska what the Oregon Trail was to the Continental United States (or "lower 48").
After the Richardson Highway was completed in 1945, the Goat Trail became obsolete and was abandoned. The Richardson Highway was built along a more stable route and followed the bottom of Keystone Canyon. The Goat or Military Trail, which wound in and out of the mountains, had washed out several times.
The Goat Trail today can be used for hiking and leisure activities. The trail beings at the wood sign just past Horsetail Falls in Keystone Canyon (Mile 13.5 Richardson Highway). The trail twists and winds following the Lowe River and is passable for the first 2.5 miles. Should you choose to hike this trail, you will enjoy great views of the scenery and the new highway while reliving some of the great history of the Valdez area.