---
---
Overlook Trail is one of Valdez's most accessible trails for all ages, with wooden-steps and railings provided along this short path. Despite being a short hike, Overlook Trail has much to offer. The trail leads to the top of Civic Center Hill, offering amazing views of town, the Port of Valdez, and the Chugach Mountains. Salmonberry flowers, fireweed and other wildflowers decorate the trail in the summertime. A geo-cache is hidden along the path as well.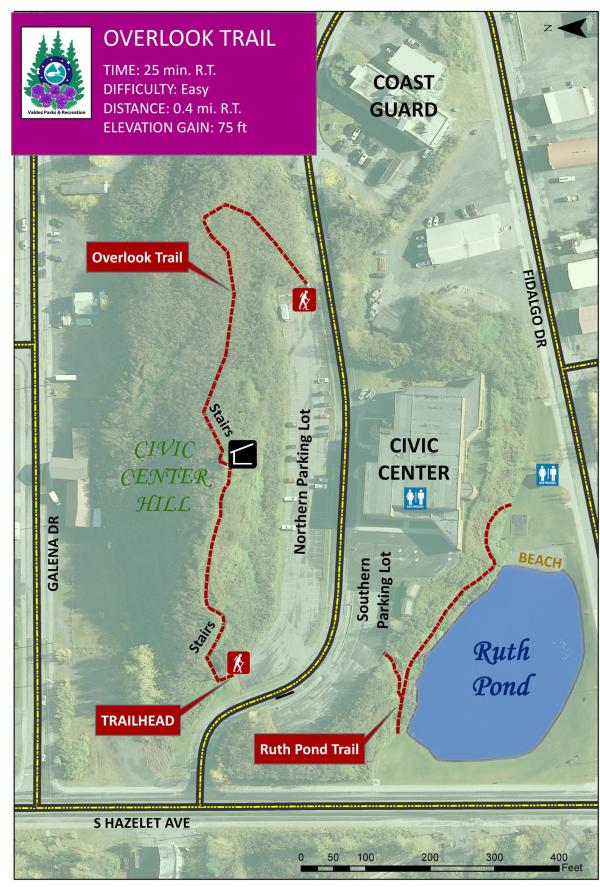 Map from City of Valdez Parks & Recreation. View full trail guide. 
Trail Details
Difficulty: Easy
Time: 25 minutes round trip
Distance: 0.4 miles round trip (0.64 km)
Elevation Gain: 75 feet (23 meters)
Amenities: a covered picnic pavilion is located at top of the hill
How To Get There
Take Hazelet Avenue south towards Civic Center Hill. Parking is available on the hill or in the parking lot next to Kelsey Dock. The trail-head is located at the northwest corner of the Civic Center's northern parking lot. 
View more Valdez maps 
Safety & Etiquette
Overlook Trail is great for all ages, with stairs and railings provided along sections of the path. The trail is well maintained, with plants groomed back from the path. However, if you venture off of the trail, there are several plants on the hill that may cause skin irritation, including wild celery and nettle. 
Trash receptacles are provided at the picnic pavilion at the top of the hill to deposit any trash.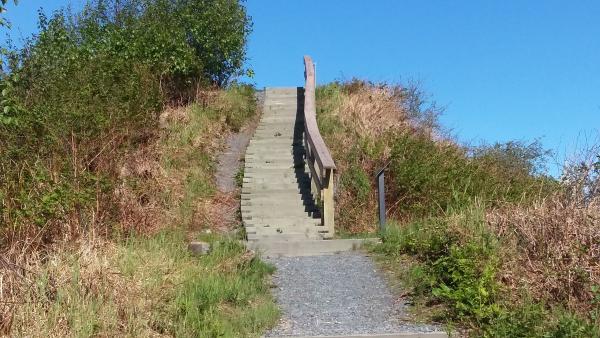 Photo Gallery