Aurora season is here! Valdez locals and visitors alike have had a great time spotting the northern lights over the last week.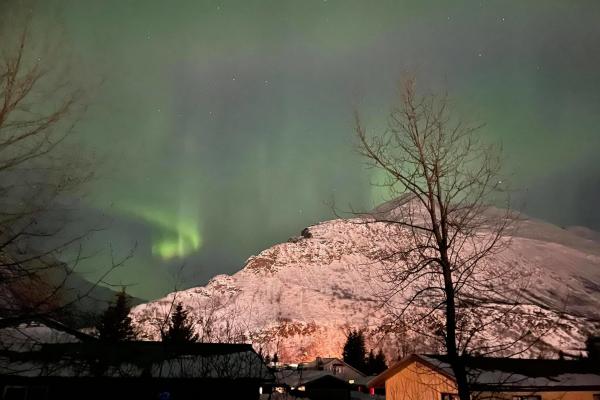 Photo by Brandon Roberts, February 7, 2021
Many locals have spotted the aurora over their homes in recent days, and others have gone out "aurora-spotting". Outside of town, some of the best spots for aurora-spotting are at open areas like Robe Lake or Old Town, or even as far out as Thompson Pass. 
The best chance of spotting the northern lights in Valdez depends on timing. The winter skies in Valdez can range from clear and windy to cloudy and snowing. Check for local weather updates online or on the radio with our local stations KVAK (93.3 FM, 1230 AM) or KCHU (770 AM). Additionally, aurora-spotters will want to check the forecast for aurora activity provided by the University of Alaska Fairbanks online aurora forecasts. 
The Valdez-area forecast for next weekend is looking good, with moderate aurora activity predicted for Saturday February 20th, and high activity on Sunday February 21st.